[App] Watermark Stamp – Add Copyright Logo, Text on Photo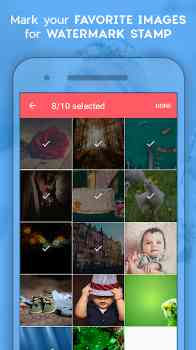 Watermark Stamp : Watermark all your Precaptured Gallery Photos in a variation of – Trademark Logo , Copyright Logo, Brand Logo and many other to protect your pictures being stolen and misused by others!
The fascinating part is that you can even add a Personalized Text Signature (Text on Photo) or Phrases of Words (Photo caption) on TOP, BOTTOM, LEFT or RIGHT Positions next to Logo.
Check out this HIGHLIGHTS to make your Watermark look more appealing!
Changeable Watermark Logo Size
Adjustable Logo Transparency
Easily changing Logo Alignment.
Gorgeous Settings for Text Signature::
Add Text on Photos on Line 1 and Line 2
Change Text Size freely
Color Variants
Elegant Text Styles
Watermark Position can be changed.
'Add caption to Photos with the Logo' feature is only available in Watermark Stamp App and is not offered by anyone else as of yet.
Fringe benefits to pick us:
Adds Watermark Logo and Text to multiple Photo Gallery at once.
Only App that offers Text adjustment
Designed and Managed by Team Auto Stamper
Making up your work more precise and easy, we've listed out each point of application usage. Checkout beneath:
How does it work?
Toggle Stamp On and select your Brand Logo from the Photo Gallery.
Enable/Disable Words/Sentence Lines.
If enabled, add Text to photo with it's Position, Size, Format and Color around the Logo.
Conveniently choose Position, Size and Transparency of the Logo
Select images from the Gallery
You're all set to go!
Simply Download this Stamping App & you are ready to use it in 1, 2, 3, 4,…
CHOOSE YOUR BRAND LOGO > EDIT Watermark Text > MODIFY appearance of the Watermark > And Stamped!
One time setup is enough to markup your photos with your favorite watermark settings. All you need to do it, turn your watermark toggle On and your work will be done like a cakewalk! Turn it OFF when not required!
The Internet is flooded with Duplication and Piracy issues. So, if you are uploading your Photographs on Global channels without adding your Signature, within a blink of an eye your picture can be stolen and used with a different watermark without your permission which will automatically take up your identity.
Why risk all of your hard work? Instead, portray it flawlessly without any kind of hesitation with a simple Photo Watermarking Stamper.
Exciting Perks of Inserting Caption to photos:
Safeguard:
Copyright stamp on photograph along with caption will act as a layer of safety guard to your captured photos and will discourage people to access and put their authority on pictures without prior permission.
Branding and Promotion:
Make your day to day branding of products and services on the internet more effective than ever by putting descriptive texts like sales & discounts with your company copyright symbol and add text to photo.
Association Details:
Help people to contact you easily by referring your shared pictures which can be done by adding a business logo along with brief information to connect you.
Event Tracking:
Possibly have a track of various events which happened or are about to happen for easy remembrance by add text or caption to pictures over them.
Things to consider:
1. Do not delete your original set of images as the watermark cannot be removed from edited photos.
2. Preview modifications which you made before adding stamps to Gallery images to get precise results as per your want.
Yes, you have read everything about this watermark app correct! So hold back each thing and tap the install button now!
Watermark Stamp developer :
Download Watermark Stamp from Play Store
Thanks to Patel dor sharing Watermark Stamp
Get more android apps/games/updates
Subscribe to our mailing list and get new android apps / games and updates to your email inbox.
Thank you for subscribing.
Something went wrong.