[Game] Weapon Throwing RPG 2
 i am innocent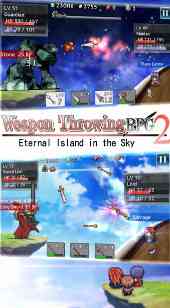 Weapon Throwing RPG 2 : Tons more weapons and secret skills than the previous game!
User-friendly, intuitive RPG for light gamers!
Throw weapons to attack your enemies! Destroy weapons thrown at you!
The more you use weapons, the stronger they become, leveling up during battle! Secret skills are activated when leveling up!
Combine various weapons and items for your own customized battle strategy!
Advance through the story to unlock new characters. Mastering each character's unique abilities will give you advantages in battle.
Battle in the Arena!
You can test your skills in the Arena!
Defeat opponents there to acquire rare weapons and armor!
Story
This is the Sky Island "Forselia"
In an effort to maintain peace throughout the Sky Islands, the Lord must use his "Double Weapon Throwing" technique
to do away with invading monsters.
Today he has taken on a request to exterminate a Wyvern, and is on his way to get it done.
This is just the beginning of a much larger battle, that will ultimately determine the fate of all Sky Islands.
Recommended for…
RPG lovers
Those up for intense battles
Those in search of pixelated offline games
Action RPG lovers
Hack and slash elements
Kill time for free
This is a new version of "Weapons Throwing RPG."
Materials borrowed from the following sites
Usui no kai (enty.jp/usui634)
R do (www.geocities.co.jp/Milano-Cat/3319/)
bakenekokan (neko.moo.jp/)
Whitecat (whitecafe.sakura.ne.jp)
obane no koya (obane.tuzikaze.com/)
M-ART (mart.kitunebi.com/)
Wingless Seraph (wingless-seraph.net)
amacha music (amachamusic.chagasi.com/)
Free Sound Effects (taira-komori.jpn.org/)
Sound Effect Lab (soundeffect-lab.info/)
Weapon Throwing RPG 2 user reviews :
Lots of fun and balanced. I wish there was less reliance on ads for sure
Very fun and entertaining, completely offline aswell. Great game!
This game is amazing i defeated the emperor thinking he is the final boss but the game has a lot to offer
Simple and funny, I love this game.
Wonderful game, but still the creator do really care about users of this game, the stamina system makes me never play for too long which may harm my eyes. I just hope for the periodically update of the game.
More or less similar to the first game, but with more weapon and heroes variety. The energy system and ruby isn't that annoying, as long as you save up your ruby for stuff that really matters (nothing is Pay2win on ruby shop, although double exp helps a ton), and you starts to ran out of energy near end-game, or you played for hours until you couldn't get any level up
It's simple & fun, both for the UI & the gameplay. Good for when you're bored & or need to kill some time.
Great game to pass time…it has a stamina system meaning you get a limited amount of times you can go on levels but it refills fast and gets bigger as you level up and it seems to be pretty long, completely offline also
The gameplay itself is wonderful, the stamina system however removes all faith i had in the game. I was extremely invested in this game during the tutorial, excited to dig in to a new mobile RPG but instead I was hit with a Stamina meter, I played one further level to see how bad it was… 6 minutes to restore one stamina. One level took 6 stamina. 36 minutes to play the next level is disgusting. It's like you dont want me to play this game. It's a damn shame.
The graphics, story and gameplay is amazing. However, the stamina system takes too long to replenish and in the later stages, the game crashes a lot…Ratings dropped from 3 stars to 1 due to the fact that I cannot attain a buddy or a rare chest at stage 8 onwards because everytime when I get one, the game ends up crashing, causing said items to disappear. More than 10 times this has happened and I am truly disappointed since this game has a lot of potential.
Music, graphics and atmosphere are amazing. Gamepkay is good, repetitive, and more op weapon focused, but I havent gotten bored yet.
Contact developer :
Download Weapon Throwing RPG 2 from Play Store
Leave your feedback regarding Weapon Throwing RPG 2
Get more android apps/games/updates
Subscribe to our mailing list and get new android apps / games and updates to your email inbox.
Thank you for subscribing.
Something went wrong.