[Game] World Warships Combat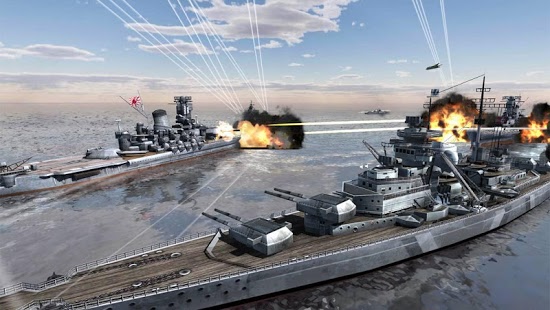 Go back in time to the 20th century, and be prepared to take on your enemies on the high seas, by commanding your naval vessel and destroying your opponent's ships.
World Warships Combat is a battleship shooting game with several types of military ships fulfilling different roles.
The game provides players with a huge naval fleet and grants an opportunity to take command of legendary vessels and fight for domination on the high seas. Each machine has its unique realistic combination of firepower, speed, armor, and endurance
The naval action game has several features to keep you entertained, including a straightforward and clear game interface, as well as easy-to-maneuver game controls.
Your mission is to take charge of a fleet of powerful and varied naval ships, taking to the rough seas to seek out and destroy your enemies in intense and bloody battles.
Enjoy it!
Features:
Varied and powerful weapons could be used in any situation!
Cutting edge 3D graphic!
battleships in real history!
Beautiful environments!
Smooth and simple ship control system!
Easy to learn hard to master!
Exciting VFX effect!
We will update and improve this game constantly.
Please rate and give your feedback for further improvement of the combat experience.
You may also like
World Warships Combat user reviews :
Genuinely fun to play mobile game (which is genuinely rare these days) Thh it just needs an update (It hasn't since the first time I played the game probably 7 years ago and seems like the Devs have totally abandoned it which is really dossapointing)
I've been playing this game since I was around 6. I used to be obsessed with the concept if boats and carriers, and this game was "it". This game was sort if abandoned by the devs, and the multi-player mode hasn't and likely will never come. However, this game is great and does a good job at killing time during long road trips and such. Overall, the game is fun, I would recommend.
This game has wonderful mechanics and actually lets you command a warship on the surface. It becomes almost impossible to get some of the top tier ships and it is therefore extremely difficult to progress late game, but still a great amount of fun.
it has pretty good combat. ive downloaded it a couple times before and its a great time killer. though the controls are a little wonky and can use some tweaking. the main problem with the game though is the fact that it drains your battery very quickly. my phones up to date and is one of the newest ones today but it manages to get warm after 5 minutes of playing. other than that its awesome.
This game is great. you don't need to get the big ships. Keep the ROYAL SOVEREIGN. point it in the 5 o'clock position, ships before the boss are easy. When you get to the BOSS fire at him only. When they get close, take out the little boats then take out the BOSS. You can go to the end with no problems. ED (don't spend a dime).
This game is fun but needs some warships like aircraft carriers and submarines it also needs some more levels because of the money if you finish all the levels the money will just be 29,900 or 50,000 it needs a little update to get more warships and more levels. Please I am begging you
Verry good The game is awsome. I like it verry much. But the vurder u go the more difficult it gets. So I suggest that why not if the gamers are halfe way thru the game u could also buy sidebouts. U know just like sidekicks (partners). So it gets easier for the gamers. The sidebouts dosn't need to be as strong as the main bout the gamer is controling but maybe it could only be half as strong or 3/4 as strong just like the main bout.
This game is super good!! But I have a few problem. First one is the from long time ago, app says that multiply is coming soon. But I don't know when we can play. So please make it. I really like this game. One more problem is this game's ship are really cool. But there is no 3D viewmord. So please make it. And you should also make PV video. I really like your game's.
Last Update :
Built with new SDK.
Contact developer :
Download World Warships Combat from Play Store
Leave your feedback regarding World Warships Combat
Get more android apps/games/updates
Subscribe to our mailing list and get new android apps / games and updates to your email inbox.
Thank you for subscribing.
Something went wrong.