[Game] Z-Day – Hearts of Heroes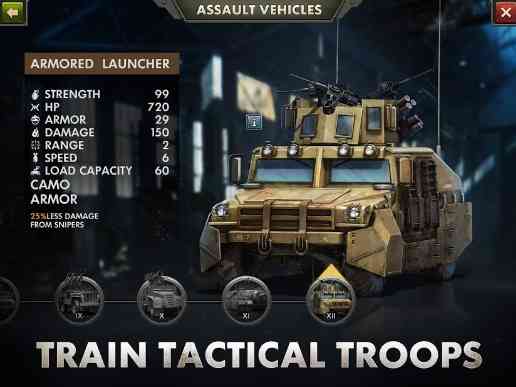 The World War has raged for years.
Scientific experimentation has increased in an attempt to break the lethal deadlock. Experimental supersoldiers are common and the skies are dominated by huge Destroyers. The Allies were finally starting to gain the upper hand when the Invaders released the gas. It contained a chemical which caused the living, and the recently deceased, to rise as zombies… As if war wasn't hell enough. Z Day is upon us.
Prepare yourself for the hottest free MMO of 2018! As a Commander in hostile territory, you must build your army, fortify your base, make friends and take out enemies while trying to survive an apocalyptic zombie war zone.
Features
World War! Hold your head high and march bravely onto a battlefield of global terror! Amid the undead chaos there is the chance to claim Presidential power and glory!
Alliances! Make friends and build relationships with your allies. You'll need to work together to defeat the Commandant and storm the Bastion!
Destroyers! Death from above. A legendary Aircraft of devastating power. How will you customize yours?
Chat! Connect with thousands of players from around the world in live realtime conversation with the easy-translation feature.
Invaders! The Commandant has proved he will stop at nothing to achieve victory. You must use all your cunning to repel the Invasion and save humanity from oblivion.
Strategy! Manage your resources, train your army and research vital skills. Understand your enemy and strike strategically!
Building! Build yourself an Empire strong enough to survive the war to end all wars.
Epic Story! Fresh immersive storyworld packed with terrifying Invaders and stunning HD graphics.
Z Day. No more rules.
SUPPORT
Are you having problems? contact_zd[at]kingsgroupgames.com
Privacy Policy: www.funplus.com/privacy_policy/
Facebook fanpage:
www.facebook.com/ZDay-1764246300329144/
PLEASE NOTE: Z Day is completely free to download and play, however, some game items can also be purchased for real money. If you do not want to use this feature, please select password protection for purchases in your Google Play Store app. A network connection is also required.
Also check our list
User Reviews :
This game has a really nice theme and design, with lots of features and free gifts. It's not pay to win, but if you want to pay, i ve found the prices very accesible.
Graphics are on par with what you expect from this studio; great for a mobile game. If you are already playing Guns of Glory, and are at an advanced level, I would just stick to that game, unless you are into WW2 themed games. It is free to play, but like GOG, it will require some level of monetary investment to make practical progress.
KingsGroup Holdings

Hello Commander, We are happy to hear you enjoy the game experience. Our constant preoccupation is directed towards improving the game and your feedback is helpful. Please don't hesitate to share your thoughts with the Support service in your Base HQ. Regards, Z-Day team.
I love the latest updates ZDay had been bringing out, new looks, skins, has polished the interface up well and a few of the game play features makes things more interesting. However, if your looking to rise above quickly for say your Commander gear, you need 100 Black Panther cards (=1 part of 6) you are looking at 300$ out of pocket and the latest event for Halloween placed a single character portrait behind a 500$ cost. Mind you this portrait dose nothing for base states. Not a FTP.
KingsGroup Holdings

Dear Soldier, We appreciate you taking the time to write. We are always striving to improve the game and your feedback is important. If you have any suggestions, please contact us directly from the game by tapping on the 'Help & Support' panel in your Base HQ. We appreciate the support, Z-Day team.
If I could rate this game lower, I would. I simply downloaded this game to earn currency for another game. The problem with this game is, that you get nowhere. Ive spent over a month on the same base level. I foolishly used a lot of resources thinking that id keep them, because i had spent so long without being attacked. Welp, next day I awake to having 30+ attacks from a Chinese player. I moved, attacked again, and etc. etc. Find out, this dude can track me, because his clan is ruling.
KingsGroup Holdings

Hi Soldier, We do realize that a real-time multiplayer can be challenging and we appreciate you took the time to let us know your concerns. Although we encourage you to constantly work on your strategy, you can also ask for some tips from the Support service as they are happy to assist. Thank you for your understanding, Z-Day team.
Last Update :
New items and events:
New Training Devices: the Ultimate Training Devices
Optimizations:
Updated Supply Chain Event
Updated Giant Monster Event
Updated Weapon Recycling Depot
Some bug fixes
Z-Day developer :
Video :
Leave your feedback regarding Z-Day
Get more android apps/games/updates
Subscribe to our mailing list and get new android apps / games and updates to your email inbox.
Thank you for subscribing.
Something went wrong.