[Game] Zombie Tsunami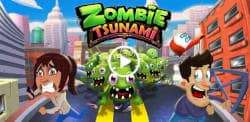 The zombies are revolting ! Attack the city with a horde of zombies, change pedestrians into zombies and create the largest horde.
Eat your friends, and challenge them to a crazy race by destroying everything in your path.
Zombie Tsunami has proudly exceeded 200 million players around the world.
"Zombie Tsunami is a game you really need to own" (TouchArcade)
FEATURES
"One touch" gameplay to control the entire hord
10 delirious bonuses, ninjas, dragons, UFOs, and many more
Many upgrades to unlock
Raise zombie birds and use their powers
More than 300 missions to devour
11 sets to travel in
Optimized for all Android models
Why not try our other games: EDGE, Cross Fingers, Perfect Cell, Truckers Delight.
Follow us on twitter.com/Mobigame
Visit us at  www.mobigame.net
You may also like
Zombie Tsunami user reviews :
It's a fun game, got me really hooked, especially in the beginning, but after you uncover most birds and upgrades the game starts getting demotivating…I still play to have the last 2 legendary birds, but since there are no other upgrades it's not as much fun as in the beginning. I like the fact that you don't have to spend any money to progress, the add-play balance is ok if you play for free.
A few of the adverts crash the game every time they appear despite perfectly adequate bandwidth. Usually just before you receive a lotto ticket or something cos that's when they pop up. I always lose the ticket, angel, diamonds or whatever it is. It's always the same ads that do it. The same ads do not crash other apps. Other than that it's a five star game. What a shame…
Very addicting and glad there's no ads which makes it so much better. I highly recommend to download this game. I had it before and recently re-download it and I noticed this time it's so much easier to get diamonds than it was before. I don't have to pay for them now lol didn't before cause I just won't lol. Anyways love it and I highly recommend it.
It is super good the game is. Balanced the skins dont give you a bouns which is super good but the problem is when you play most of the times you get bad teammates and it just sucks it wont give you teammates at your level most of the times so that is the only thing hilding me back from a 5 star.
I have been Zombie Tsunami player for a long long time. I have acquired a certificate. In 2022 suddenly it is necessary to upgrade this app. I TRULY hope that my earlier accomplishments are not lost.Hope it is as interesting as our old Zombie app. THANK YOU TO THOSE WHO DEVELOPED THIS LOVELY GAME.
Had this game back when it was out on Kindle ad-free then, and even now the ads only ever get bad when you're swapping between menus like mad. Fun and interesting twist on the runner genre even with that.
I'd offer this game a 4 stars, this game is fun, and cool but ther was a crash always on this game and every I loose, the game even it's loading to show the add and I got 100 load shareble load or data whatever that called is, and anyway I want you to know this game is lag and it always crashes and I can't play this game if it's lag to more longer but this time it did'nt lag any more but it still hanging…Ó╭╮Ò So thank you… For this knowing comments…
This game is SOOO good. You need to make ads for it (not adding into the game i mean creating an ad for the game itself) so everyone can see it and it gcan get popular.
Really fun. But huge glitch makes a quest impossible.bforbthe dragon soldier quest, you can't jump on a missile without losing all your zombies so fix that
I remember this game from when I was younger and I would play it nonstop. Honestly better than subway surfers, too.
This game that will make you install it over and over again because its really casual yet adventurous and fun. Although, you will be angry a little bit because of some weekly challenges and so hard just to get the big prize, it still make you want to play more. Fun, really.
Ok so it's a pretty fun and classic game BUT when I use to play it a couple years ago it never had as many ads but now it has a ad after every round! I get that you wanna make money but please don't put a ad aftre every round. That's all really.
Contact developer :
Video :
Leave your feedback regarding Zombie Tsunami
Get more android apps/games/updates
Subscribe to our mailing list and get new android apps / games and updates to your email inbox.
Thank you for subscribing.
Something went wrong.