[Game] Zombies Crisis – Fight for Survival RPG
 free android apps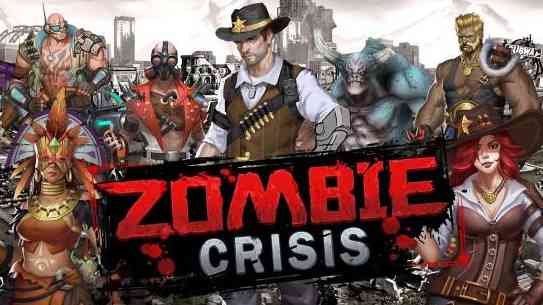 Gather a team of heroes who survived in the Doom.
Fight against thousands of the zombies. Recruit heroes with unique abilities and weapons. Build a well-balanced lineup, experiment with squad formation, power up and upgrade your heroes. Collect and spend your resources wisely. Challenge survivors from all over the world in the Arena and fight for the survival of the humanity.
GAME FEATURES:
Auto-Battle
Recruit survivors, transform heroes, build a mighty team to defend your home!
High intelligence AI automatic play, say goodbye to manual operation, free your hands!
Get loot even while you're offline, abundant rewards are waiting for you!
Line Up Strategy
Hundreds of companions and transformed zombies with specific skills! Build a unique team!
Class match, faction restrain. Strategic team formation, say no to regular gameplay!
Diversified cultivate system, level up your hero, start your journey of survival!
Tons of Gameplay
Stage search, resist zombies to obtain supplies, it's the only way to survive when doom comes!
Tower of doomsday, challenge the monsters level by level!
Brave raid, a path that you can't retreat, the failure is death!
Mysterious crystal, transformation institute, enjoy your game!
Brotherhood
Mutual assistance, send hearts to your friends! Friends don't let each other wander in the dark alone!
Fight in the arena, only the strongest can lead companions to survive in the competition!
Cooperative Guild
Create a guild with your friends and lead your guild to supremacy!
Fight alongside other guild members, challenge the guild Boss, obtain great rewards!
The powerful guild tech can make you stand out in battles!
The exciting guild war, challenge other survivor camps, fight for glory!
SUPPORT=
Email : tojoygame[at]gmail.com
Zombies Crisis user reviews :
Some people do not understand the gameplay because it's different than most other games. Like in order to awaken the hero you need 5star heroes not 1star heroes. See, a bad review because one doesn't understand completely. This is one of the most entertaining games I've played, it's addicting for some reason. It's also extremely F2P friendly, you can progress and compete with the biggest investors but it takes time, lots of time. Support is top notch as well, got multiple replies instantly
Really good game. Easy to follow instructions. Nice to have the auto fighting too. Well done
It's a twist to the walking dead but It's a great game there's so much to do and so many characters I'm loving it 5 stars yep
satisfied on this game how ever every one is quitting only few players i in counter during i play….
TOJOY GAME

Dear player, we are sorry to let you down. There're still many active players in the game, you will make more friends! If you have any suggestions, please feel free to let us know via tojoygame[at]gmail.com We can do better.
This used to be an amazing game but the developers slowly got greedy. When you first start the game it seems fair and generous till you hit about level 150, after that it becomes ridiculous. Im level 247 and the drop rates have been changed since these past two updates came. This "Wishlist" and "Hero Base" thing proves they lowered the drop rate of good 5 star heroes. They just went totally pay to win, ask anyone who has been playing for a long time. The vietnamese players run this game.
TOJOY GAME

Dear player, we are sorry to let you down. We value every bit of your advice and will probably use them in future updates. If you send us the problem you encountered to Email: tojoygame[at]gmail.com, we will help you as we can. Thanks for your patronage
Pretty fun, typical pay to get a head but not much money needs to be spent, or any at all. Good weapon and level up system. Just like any normal game have to learn to play right and adapt to with how to level up. Gems are not to hard to save up, i saved for the ten and got a 5 star with no money spent.
Edit: Thank you very much Dev team for fixing this issue. I truly appreciate your support and attention. Edit: I have already sent an email and just sent another. I hope this can be resolved soon. I do enjoy this game, but this glitch is not acceptable. Original: I enjoyed the game until I bought the $1.99 pack. I saw the money was taken from my account but I never received the item I paid for. I have contacted the devs with no response so far. Really not liking how they do things.
TOJOY GAME

N

Dear survivor, sorry for the inconvenience! Please contact our support team so we can help you solve it ASAP! Email: tojoygame[at]gmail.com
Contact developer :
Download Zombies Crisis from Play Store
Leave your feedback regarding Zombies Crisis
Get more android apps/games/updates
Subscribe to our mailing list and get new android apps / games and updates to your email inbox.
Thank you for subscribing.
Something went wrong.