[Game] 2048 Charm – Number Puzzle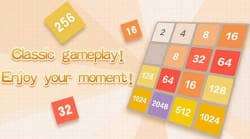 Are you ready to play the most fun and innovative 2048 game in the market?
New 2048 is here to offer you the most classic 2048 numbers puzzle gameplay along with 12 different 2048 variations, all in one complete number game package!
With rich 2048 game gameplay, intuitive puzzle games interface, and all the number game functions right at your fingertips, this 2048 number puzzle games is sure to be your favorite! Get immediate access to 2048 plus number game variations like 4×4+ Board, 5×5 Board, Drop mode, Party mode, and other 12 fun number puzzles gameplay! Nice time pass games!
2048 Charm Puzzle Games Features:
12 unique & advanced 2048 game modes in one app
Keep playing for High-score after collected 2048 tile
Classic and simple UI, smooth sliding numbers experience
One Undo move support to adjust cool 2048 math strategy
Reset 2048 standard anytime in case you get stuck
Detailed guide and rules for each 2048 puzzle games
2048 Process and high score will be automatically saved
How to play 2048 Charm puzzle games:
Swipe the screen to move tiles left, right, up, and down. When two dots with the same number touch, they merge into one! Every swipe, a new tile will randomly appear in an empty spot on the numbers board with a value of either 2 or 4. Slide the tiles to merge them, 2+2→4, 8+8→16 …32 …256 …1024…2048, when 2048 tile is created, you win the puzzle games! Play this amazing 2048 game and have fun!
2048 Charm puzzle games Modes:
Classic Mode: Classic (4×4), big (4×4+) amd bigger (2048 5×5) board options. This 2048 number game challenge mode is an upgraded number game version of the original 2048 game.
Click & Joy: Click the tile, the number +1 and compose new numbers with adjoining tiles. Be prepared for new super 2048 numbers puzzle games puzzle challenge for best number puzzle record!
Drop Mode: Place the falling tiles to the right numbers position. Two dots with same numbers will merge into one. This is the interesting numbers combination of 2 classic logic puzzle games: Block crush game & 2048 Ultimate.
Party Mode: Click on the adjacent tiles with the same numbers, all the number game tiles will merge into one and double its number. Explore deep cool math logic challenge for your mind with 2048 Charm puzzle games!
Merge Mode: Click on the blank spot, numbers will move closer. Start playing this awesome 2048 unlimited puzzle games mode, merging the numbers and experiencing the cool math logic 2048 game.
Line Mode: Slide to connect the same numbers, the more you connect, the higher numbers puzzle games score you get. Compete with your friends to see who can reach the best score in 2048 game.
Spin Number: Line up numbers from small to large to generate a more larger numbers. The longer the line is, you have more chance to win the 2048 pro magic puzzle games.
12 Legend Mode: Only the red 1 tile and the green 1 tile can combine a 2. This is an amusing 2048 game mode that will get your brain trained, get fun out of it and make you think.
More fun 2048 puzzle games are waiting for you in our cool math puzzle games: 2048 Charm!
Like us on Facebook:  www.facebook.com/DoPuzGames
Follow us on Twitter:  twitter.com/DoPuzGames
Free to Download Now! Enjoy the fun on this 2048 charm number puzzle games!
You may also like
2048 Charm user reviews :
This game is real great at passing the time! If you play offline theres no ads at all.
Was delighted with this game until the recent update. Now too many adverts some meaning that you have to come out of the game and go back in order to resume your progress. Angry as I really loved the diverse elements. Will delete the whole thing….. very disappointed since the update
The games are fun and entertaining, I can play for a while without getting bored because of all the different choices.. But 3 starts because there are an unbelievable amount of ads, it's really annoying.
fun game and I love that there are a group of games that come with it! not too many ads either. just after you co.plete a level and that is totally manageable
Everything is good but because of the ads I am rating so bad. You can't play this game with your data on there are so many ads back to back.
Been playing this for years, has enough number of games and you can restrict internet to stop the ads.
I just love this game. I thought I was gonna delete it afterwards but I ended up keeping it for more than a year (tho in separate devices).
Pretty good free game. Straight forward. No glitches. Not too any adds.
Some games are better designed than others, but there's a wide variety of puzzles games in this one app.
Contact developer :
Download 2048 Charm from Play Store
Leave your feedback regarding 2048 Charm
Get more android apps/games/updates
Subscribe to our mailing list and get new android apps / games and updates to your email inbox.
Thank you for subscribing.
Something went wrong.