ABC Games – Phonics & Tracing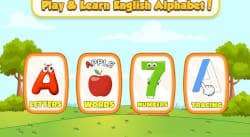 ABC Kids Learning game – a fun way to learn alphabet for kindergarten kids.
Educational ABCD games for kids are designed to be the most engaging and effective way for learning letters and phonics, with simple interface for even toddlers.
2 ABC games for kids with phonics have joyful artworks, sounds and effects, making the English letter learning experience even more enjoyable for your preschool kids.
Kids educational app had never been so effective to learn letters, preschool kids get used to phonics and basics of spelling while playing, without even noticing that they're learning. Each letter is spoken out loud every time the kid interacts with alphabet in the games.
Additional Features:
The app is completely free of Ads
Can be played offline
Links going outside the app and buttons making in-app purchases, are protected by Parental Gate, to make the alphabet learning process your kid's stay in the app as safe as possible.
Discover and play other learning games from "Bebi Games" with your child.
Please write review and rate, if you enjoy ABC games for kids in this educational app!
You may also like
ABC Games user reviews :
It is simple but i find it very usefull, the design is also nice, easy to use. Recommend! And i would like to encourage the team to keep on the good work!
+ 5 stars: Great game overall! – 1 star: Loud balloon popping sounds at the end of each segment, no way to disable the sound without disabling all sound effects. The sudden loud noises are rather upsetting to myself and I would assume to any small child playing. – 1 star: Bug in the section of learning the number "2" wherein the pieces of the number beak apart and must be put back together. When snapped into place, and upon completion, the smaller numbers that appear read "1" instead of "2".
Seems easy enough for my 6 year old
My toddler loves this app so much!!
Excellent app for pre-schoolers and KG students. I was totally disappointed that my kid of 5 years was good at everything else but without learning basics of reading how will she handle primary learning. I was wondering if she is having a learning disability. This app is excellent, it includes the techniques of NLP for young kids with learning disabilities. So parents, I highly recommend this app, better than any other of the same kind.
My daughter is 1.5 years old and she loves this game. It keeps her entertained and she learns at the same time. All the different games help her to learn her alphabet and I'm surprised at how much she catches on. I recommend the game for your little one.
Very interactive application for kids. They feel like playing a game and they learn all the alphabets and words quickly. Graphics of this app are very good. A very well designed app
This would be great if this app didn't have Christmas themed stuff on it. As a family who doesn't celebrate Christmas, It would be nice if it was removed or at least have the choice to hide it. Especially since I only known this after I bought it.
Bebi Family: preschool learning games for kids

Dear User, really appreciate your suggestion. Can you please be more exact about what Christmas themed stuff you found inappropriate? We don't have it in this game so will be glad if you can provide some screenshots. If you have questions or suggestions please contact us at info[at]bebi.family.
This is an amazing game. My son loves playing it. He is learning how to spell while interacting at the same time. It was a bit challenging to get him to practice spelling. Then I decided to try and find a game that he can play that is both colorful and fun. While searching on the app store, I came across this app. It captured my attention so I downloaded it to take a closer look. With all the letter puzzles and spelling puzzles, I knew this was what I was looking for. My son now enjoy this game
it is easy to use for toddler. Happy to play and learn with cute picture. My baby is very intrested this app.
My toddler chooses this app over other games and I am thrilled. This one doesn't have any ads that draw kids attention away or take them to a other site.
This game is great but you should try to show examples of alphabets in sentences maybe then it will be easier to learn sentences for kids,
Great educational game , simple for kids to deal with and good for kids to start learning, my three years old kid is enjoying it
Contact developer :
Download ABC Games from Play Store
Leave your feedback regarding ABC Games
Get more android apps/games/updates
Subscribe to our mailing list and get new android apps / games and updates to your email inbox.
Thank you for subscribing.
Something went wrong.