[Game] AQ First Contact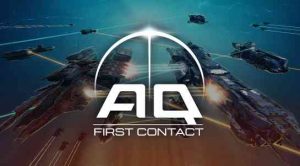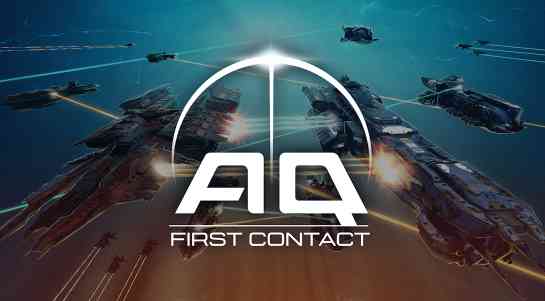 Command your fleets, capture enemy player sectors and conquer the galaxy in this deep, real-time strategy game.
Form a corporation with other players and declare war to take the galaxy for your own, fight off alien XENO invasions and create an unbeatable fleet.
REAL-TIME PvP: Fight your enemies at war with real-time battles in space.
GAME EVENTS: Battle in weekly events for top prizes.
SOLO MISSIONS: Go your own way and complete missions or achievements on your own.
CORPORATIONS: Create or join a corporation and crush your enemies.
CHAT: Chat in real-time with players from around the world using auto-translated chat.
Fight pirate factions like the Red Sun or the deadly Night Ravens or go pirate yourself and come up against powerful security forces.
Research, craft and loot new equipment from the pirate fleets or other players in real time PvP, PvE and Co-op.
Explore wormholes, asteroid fields, gas clouds, nebulae, and debris fields.
Ships can be upgraded with new weapons, fittings, riggings and power cells allowing you to customize your fleet for each battle.
Dispatch drone fleets to harvest resources while you are away.
Compete in galaxy-wide events to earn legendary equipment.
Join a Corporation to build stations and claim a region of space for your allies.
A single universe puts you together with all your friends no matter what device you are using.
Find, loot and craft ship equipment.
Cross-platform play.
Real-time battles with up to 3v3 players.
Build stations and defend them from rivals.
Build and customize a huge fleet of ships.
Fight in a single persistent universe.
Join a Corporation and battle for control of sectors.
Real time PvE and PvP battles, solo and group play.
Terms of Use
www.sevenpointred.com/terms
Privacy Policy
www.sevenpointred.com/privacy
AQ First Contact user reviews :
Level 7 so still too early to ask! So far so good. Minimal tutorial so reliant on kind words. Very little information also.. Its a nice little time waster? At least you control your ships but still get unexplicably beaten by ai adding silly little fighters-surely its not just a numbers game, feels like it might be . Very few missions and they don't change. I think I'm going to be bored soon. Gets updated regularly tho which must be a plus to all the guys spending money!
Such a great game, firstly I highly recommend this game to anyone. It is very difficult at the start but gradually everything starts making sense. Everything is nicely balanced and the community players are very helpful. There are 2 reasons I dropped a star. How long it takes to do anything like drones, research, upgrades and even repairing your ship is too much for me personally. Also, not being able to remove ship equipment to use later is kinda harsh. It really is a great game though.
I love the game so much, the controls are good so are the graphics. I play this thing almost everyday, well you get fleet xp and score pretty slow, especially when your not a kind of farming guy, I just hope that you put in more weapons and ships in the game in future updates. But anyways, it's a great game.
It has the mechanics and play style I'm looking for, real time strategy/ combat with control over your ships. Plenty of depth, and it's not played for you, the path to power is for you to figure out. What works, testing and developing ship load outs and strategy. So I haven't lost interest here. Alot of games load you with gimmicks and gatcha to get you hooked then offer no substance other then blowing money to keep the addiction going. Games like this are rare these days so I appreciate them.
lovely gsne, great variety of weapons, ships, and possible tactics, community is quite nice, if a bit rude and less than politically correct, but be warned: the weapons are auto aimed, and the ai that controls that is horrible. tis all well and good until you find a pirate ship stuck against the side if the battle area, and every single shot misses them because the ai still thinks it needs to head the target.
Great job, you just made sectors for bully trolls only, they take all the sectors, leaving nothing for anyone else, new chip payout system is trash for all but super corps who run the game into the ground. Subsystems are only helping big bully players with gold subs. Unbalanced game only gets 1 star, because it only helps super corps and high level bullies that keep this game inactive by killing off new players who just joined.
Seven Point Red Ltd

There are new restricted areas now to keep larger players from fighting smaller ones. I hope this helps.
I have been playing for a long time. This update, yesterday.. my pad uninstalled the game and reinstalled a new one for some reason. I can not access my account that I have played with for the longest time. The name of my character is Dag I'm sure I'm the only one with that name, so is there any way to access my character back?
Seven Point Red Ltd

Hey sorry about that. Can you email help@aqfirstcontact.com I will take a look. Let me know if you used google play or email to save your account.
Its a nice amusement _&_ game. Gets your imagination working . I will leave a better review once i finf out more how to play the game !! But so far it is unique,fascinating and has elements and design that other mmo strategy games do not have !! So 10+ for that.
Latest Update :
Connection fixes for older android versions.
Call for aid improvements.
Contact developer :
Video :
Download AQ First Contact from Play Store
Leave your feedback regarding AQ First Contact
If you like the content that we provide since 2012, put a smile on our face and give us a like or share this with your friends on any social platform. If you want to support this project, any crypto donation of $0.5, $1, $2, $3 is welcome!
You can find our crypto wallets on https://free-apps-android.com/buy-us-a-coffe/
Sponsored Links