[Game] Armored God
 free android apps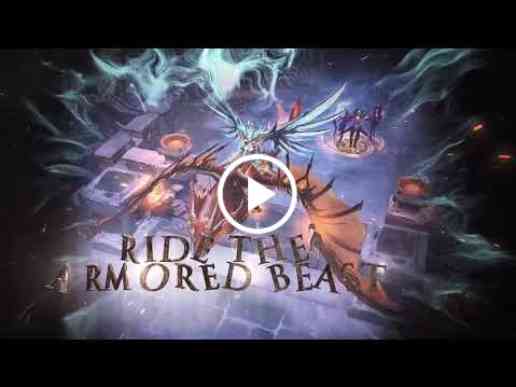 Prepare yourself as you step into a world full of chaos.
Armored God, a Dark Fantasy MMORPG that will lead you on a journey to bring salvation to the dark world, with an action packed story and monsters around every corner.
Explore and conquer the Dark Realm together with the variety armored beast and epic Summon to choose from. Epic dungeons and raids await you, Slay the Titan and Conquer the Dark Realm.
Game Features
※ Prepare to bring the salvation
Enter the Journey throughout dark realm, keep your weapon and armor primed for what lies ahead this adventure. What friends and foes will you meet in each new area? Various challenges, battles and achievements for the thousands enemies will meet their fate at your hands.
Slay The Titan
Gather your Foes and take on some of the world's most epic Titan to bring salvation to the dark world. are you strong enough?
Reach the celestial form
Upgrade to the most Epic armor, Reach the strongest armored god form.
Ride the Armored Beast!
With the huge variety of armored beast and epic summon that will tag along as you traverse the massive dark realm
Real-Time Stunning PvP
Join forces with up to 3 friends to take on other players in the different PvP modes Armored God has to offer!
Background Story
Mankind is battling the power of evil since the day of the fallen angel. In the world full of evil and chaos, God Create the mighty Armor for the chosen heroes to bring salvation to the dark world. Epic dungeons and raids await you, slay the Titan and conquer the dark realm.
Official information
Facebook : www.facebook.com/ArmoredGod/
VK : vk.com/armoredgodgame
Armored God user reviews :
Great all the time. Now my game is not starting up, I tried uninstalling and downloading it again several times but it does not work. This has happened for about 3 days. I am losing resources. The only thing that shows on the game is the wall paper, that is it. The screen does not even load. Please help me as early as possible.
EFUN COMPANY LIMITED

Dear player, could you please contact us on Facebook to offer more details about your problem so that we can help you? Thanks for your support and understanding~ Facebook: www.facebook.com/ArmoredGod/
Fun game. Too much to do. In order to compete, one must spend a considerable amount. Or a small ammount to progress more quickly. Chat option could be improved. No good that the chat history is wiped if you're logged out due to connection or any other reason. Can't keep conversations going because of this let alone start them.
This is the best game I've played so far only thing I'd like is for you guys to add an archer and a mage class other than that its a very fun and easy game to play keep up the great work efun
Awesome game the game play is amazing hope you put in a new class a magic or summoner class and put in a role change card
controlls? what controlls? pretty sure this an afk game, NOT an mmo
EFUN COMPANY LIMITED

Dear player, thanks for your feedback. We will spare no efforts to optimize the game~ Any question or suggestion, please feel free to contact us on FB. FB: m.me/ArmoredGod
Great rpg concept simillar to other but good and not too greedy so far.. lots of potential little bugs to be fixed.
game play is really nice graphics great keeps me interested I don't pay for games often we are not rich
fun little click quester lots of cool armor and weapons could use a few more classes but other than that fun
i really like it,many differences compared to similar games
Love it! enjoyable and pretty fair as well, hope you guys stick to it
this game is good enough to satisfy your free time.
Definitely a good game to pass the time with
good game
EFUN COMPANY LIMITED

May 8, 2019

Dear player, thank you for your support! For more information about the free reward and great event, please take a closer look at the posts on our Facebook~ FB : www.facebook.com/ArmoredGod Have a nice day
Last Update :
1. Increase the level cap of Characters and enhance content (Skills, Gears, etc.);
2. Add some new Gear Dungeons;
3. Fixed some in-game bugs.
Also check our list
Contact developer :
Video :
Download Armored God from Play Store
Leave your feedback regarding Armored God
Get more android apps/games/updates
Subscribe to our mailing list and get new android apps / games and updates to your email inbox.
Thank you for subscribing.
Something went wrong.