[App] Betternet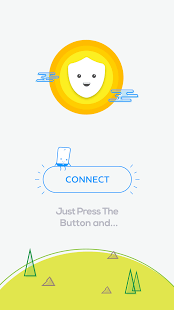 Betternet VPN is a free and unlimited VPN (Virtual Private Network) proxy for Android devices.
Betternet VPN masks your IP address, encrypt your internet traffic, turns public Wi-Fi into a private network and helps unblock sites and apps on your Android phone so that you can access any restricted content safely and anonymously.
VPN (Virtual Private Network) works just like Tor proxy, also known as "the Onion Router", to hide IP address and bypass internet censorship, to overcome geo-restriction and access the desired content. VPN (Virtual Private Network), however, has a much faster connection speed, and better privacy and security protection than Tor (the Onion Router).
Three main features of a VPN (Virtual Private Network):
Incognito Browsing: using a VPN you don't even have to install any incognito browser. Simply turn on your VPN and all of your Internet traffic is completely encrypted. Your online activities are completely anonymous.
Wifi Safety: because all your online traffic is encrypted through a VPN, whatever public WiFi hotspot you are trying to access, you will be shielded from public Wifi risks and enjoy complete Wifi security.
Location Spoofer: VPN hides your IP address so that your location is masked and you are able to bypass geo-restrictions to access any content anywhere.
Install BetternetVPN Now to:
Unblock Websites and Apps
You can unblock any apps or websites using Betternet free & unlimited VPN. Bypass government censorship and geo-restrictions to access social networks such as Facebook, Twitter, Youtube, and Snapchat, etc. or any other blocked websites from anywhere!
Anonymous Connection and Privacy Protection
Using a VPN, your IP and location will be masked and your activities can no longer be tracked on the Internet. Betternet VPN service is your privacy guard and better than web proxy servers.
Secure Your Device
Betternet secures your Android device's connection while you're connected to public WiFi hotspots or cellular data networks. It works just like a free Tor proxy (the Onion Router) but it's even more secured. Your password and your personal data are secured and you are protected from hacker attacks.
Surf anonymously at Fast Speed
Betternet is fast! It detects your location automatically and connects you to the nearest and fastest server. As a result, your connection will be much faster than any other VPN or proxy providers.
Shield WiFi Hotspot
Public Wi-Fi hotspots are perfect places for hackers and if they happen to get a hold of your personal information, you could very well be the next victim of identity theft! Betternet VPN proxy uses advanced VPN technology to encrypt your network traffic, enabling you to connect to a website via HTTPS, providing a secured shield to your WiFi hotspot.
BetternetVPN free version shows ads. Upgrade to premium to enjoy unlimited and ad-free VPN!
Contact us
If you have any questions or suggestions, feel free to reach us on support[at]betternet.co or visit our website www.betternet.co for more information.
By the way, don't forget to follow our twitter account @betternet_co and Facebook fb.com/betternet.co to stay tuned.
Betternet user reviews :
Honestly there's one thing missing from the app in my opinion. The user should be able to use their country for free as well. That's all that I am going to say about it. Besides that the app really rocks. The ability to just use the app is so cool 5* on that part but lost a star since I can't do 4.9*. I deeply recommend this app. Good job to the creator of Betternet for making Betternet is today. You did the hard work you deserve the credit. #Betternet4Life.
Very easy and simple to use. It does not require alot of storage at all coming from someone who has very little storage. I use this for school as school wifi does not let you get or go on social media which is handy during lunch and such free time.
I am geek enough to know I need a VPN but lazy enough to not want to do any research on what's the best. (Which on the Internet means I'm qualified to decide what the best is.) Easy to install and even the blippiest of connection issues is over so quickly there's no time to multitask doing semi-private things in other tabs/apps. I loathe the love child of anime's one night stand with Katy Perry that is the logo and branding. Minus one star.
Definately a 5star app Most Easy VPN App ! No issues. Slows my regular connection a bit but hey i get all the site .even pokemon which is not out in my country yet. Thanks !! Good work
Contact developer :
Download Betternet VPN from Play Store
Leave your feedback regaridng Betternet VPN
Get more android apps/games/updates
Subscribe to our mailing list and get new android apps / games and updates to your email inbox.
Thank you for subscribing.
Something went wrong.