[Game] Buff Imposter Scary Creepy Horror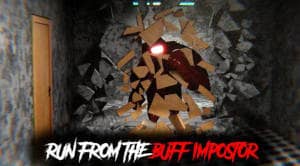 The imposter is after you!
You are in a scary maze and need to find the milk that will give you the power to fight the buff imposter. The creepy buff impostor can hide behind any door, so be careful.
In this nightmare horror game we paid special attention to the difficulty levels, also the maze changes on with every adventure! Only a few players will manage to beat this difficult horror game!
You have to be smart and avoid the buff imposter at all times. You will level up overtime, can you surpass the buff impostors strength?
Buff Imposter user reviews :
This game is suprisingly good! Over time the novelty of being chased by a buff imposter can wear off, however I must give credit to how well done this game actually is. The graphics are great but don't slow down the game too much, the controls are really smooth and responsive, and the randomized level design, while occationally annoying, can create a great and intense experience! There are a few bugs which can give away some of the level changing illusions but other then that this game is great!
This is a genuinely scary game, and actually fun to play! My first expectations was a joke horror game, that made me laugh, but instead I got spooked by the b u f f I m p o s t e r. Super well made mechanics, such as the in-game labirinth changes, and nice ambientation.
Great, just fabulous. It can get frustrating sometimes but can you subtitles or a soundboard because i like his voicelines
This is a great game, but I feel I should be able to have sex with the buff imposter. Maybe if you collect all milk under 2 minutes you can have the option to have sex with buff imposter and you should make it hot and steamy cuz he is buff and is an imposter
I love his voice!! But I hope you'll add more scary things and jumpscares I LOVE IT!!!!!
This is unlessed scary before from impostor hide, a terrible game for me into impostor hide. so i download 2 scary games already! Nice game, so i rate 5 stars, cause i like the graphics was sick! And so nice. i laugh becuase he go through walls! Doesn't enough hes strong for his own muscles?!
Good graphics good game. I play it a lot and the way the rooms change makes this game even better
This game is Beyond expectation, unlike other sussy games, this is real horror game. True Backrooms vibes and confusing mazes, and sexy sussy sugar daddy amogus is really horrifying
Really fun game but da problem is I can't see that much da lighting is so dark so I gave this a 4 stars but over all great game
This is pure beauty. If you're looking for the perfect horror game. This is it young Padawan.
The game is great….it was both scary and challenging
I love this it helps face my jumpscare and am always ready.
The game is insane when buff impostor chasing in any random doors.
Bruh the menu music is so intense I'm like omg he's huge thats the only reason and I just stared playing the game and it's already fun so five stars fo sho
This game is fantastic The graffites are very good it makes me like I am in real life and make my heart go fast,so thanks you for this game
This game is good until he punches you and runs and breaks walls 5 stars game
A hella poggers game, with pretty sussy gameplay
This game changed my course of life and basically saved my life.
This game is so good dumped my wife to get more dedicated to play this game all night long. I have quit work to play this game, I can't see my kids because of this game because it is too good.
10/10 this is official of you have seen it before on pc this is made by the same person
That was the scariest Game I have ever seen me and my sister screamed very loud I'm giving it 20 out of 10
This game is great, the dialogues of the imposter is lit
Contact developer :
Download Buff Imposter from Play Store
Leave your feedback regarding Buff Imposter
Get more android apps/games/updates
Subscribe to our mailing list and get new android apps / games and updates to your email inbox.
Thank you for subscribing.
Something went wrong.