[Game] Bullet Force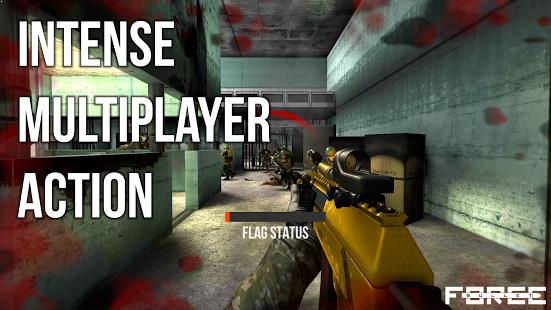 Bullet Force is a fast-paced modern multiplayer FPS with many AAA features, such as:
FAST-PACED MULTIPLAYER ACTION
Fight alongside your teammates in massive 20-player battles using a variety of iconic weapons
CUSTOMIZATION
With over 20 weapons, 30 weapon camouflages, multiple optics, laser sights, and barrel attachments, the possibilities are virtually endless.
PLAY HOW YOU LIKE
Bullet Force currently features 4 polished game-modes including Team Deathmatch, Conquest, Free-For-All, and Gun Game.
CUSTOM MATCHES
Set up the match you want by creating your own custom match with your own custom settings.
CINEMATIC FEATURES
Bullet Force features a free spectator mode and an option to disable HUD, making the game perfect for all your montage needs.
OFFLINE FEATURE
Don't have an internet connection? You can still play the game offline with bots in a skirmish and campaign mode.
We hope you enjoy this new multiplayer FPS, see you in the fight.
You may also like
Bullet Force user reviews :
The game itself is really nice, it feels like a combination of CoD and Battlefield. The only reason I'm not giving it 5 stars is because of the matchmaking system. Please, for the love of god, fix it. I'm a lvl 3 player matched against platinums with end game weapons and it gets really frustrating.
Love it, might invest in purchases (= KEEP UP the updates ;) I used to play pubg alot and rules of survival. And CoDM, very professional at them, but after awhile they get boring, and you want something plain and simple but cool with options, this is exactly that, I would suggest being able to invite friends a "party" and being able to spectate them when you're afk while they're in game, I just downloaded this lastnight, soon topping up!! -GrlmReeper kilIa Keep up the great work
I used to play regularly & been rank 100 for like two years but The game has quite literally become unplayable now, I haven't been able to finish one single match without the game getting a blue screen and kicking me out or the ping going to 3000 ms or something for no reason, and this is the only game I have these issues with.
One of my favorite games but that last ipdate, screw everything!! I can play anymore. Most of the time won't open and when it does the sound is like a airplane engine. Please fix it!! One plus 7 pro running Android Pie.
The best FPS game ever, so much fun. Brilliant maps, great guns and lots of different game modes.
I am blown away Lucas if you see this I wanna say I really love this game it's really addicting and fun I don't get any lag fps drop or anything the controls are fine and it's really challenging because you can get killed easily but they can be killed as well easily. Absolutely brilliant job and btw can you lower prices of the guns please it's too much.
Having a good time It's really fun to play, especially when I'm at the cafeteria playing with my friends and I'm spreading the name of this game in my school. Best FPS for mobile devices. By the way, I had one question, is this game cross platformed? Also, you should add challenges and events. In addition to that, you should add a new game mode called "Hardcore" which gives you only one life and if you die, you can't respawn back until your team or the enemy team gets eliminated. Ps. Ur 2 dank mr.Fix this bug
BEST FPS ON THE MARKET!!!!
I'm going to rate things from 1-10. Animations : 9.8/10 graphics : 10/10 Models : 9.0/10 Sounds : 8.4/10! Optimizations : 9.5/10 Maps : 8.1/10, and that concludes my rating of the game! I would give it an 9.9/10 rating! But 5 stars is what i'm giving it for now! Wish i could give it more tbh.
Latest Update :
Added 2 new weapons (Kar 98 and Groza)
Added 1 new map (Abandon)
Added 2 new weapon camos
Added 1 new player camo
Contact developer :
Video :
Download Bullet Force from Play Store
Leave your feedback regarding Bullet Force
Get more android apps/games/updates
Subscribe to our mailing list and get new android apps / games and updates to your email inbox.
Thank you for subscribing.
Something went wrong.