[Game] Cataclysm – Dark Days Ahead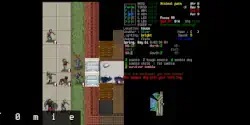 Cataclysm: Dark Days Ahead is a turn-based survival game set in a post-apocalyptic world.
Struggle to survive in a harsh, persistent, procedurally generated world. Scavenge the remnants of a dead civilization for food, equipment, or, if you are lucky, a vehicle with a full tank of gas to get you the hell out of Dodge. Fight to defeat or escape from a wide variety of powerful monstrosities, from zombies to giant insects to killer robots and things far stranger and deadlier, and against the others like yourself, that want what you have…
As your game begins, you awaken with hazy memories of violence and terror from when the world suddenly unravelled around you. Now you need to explore your surroundings, and secure food, water and safety. After that, who knows? Long term survival will mean tapping abilities you haven't used before, learning to survive in this new environment and developing new skills.
FEATURES:
Tilesets, sound, localization and mod support;
Backwards compatible with desktop savegames;
Stores game data and savegames in a publicly writeable location;
Works with a physical keyboard or virtual keyboard & touchscreen;
Auto-saves when the app loses focus (screen locked, switched apps etc.);
Highly customizable touch controls and automatic in-game contextual shortcuts.
CONTROLS:
Swipe: Directional movement (hold for virtual joystick);
Tap: Confirm selection in menu or Pause one turn in-game (hold to Pause several turns in-game);
Double-tap: Cancel/Go back;
Pinch: Zoom in/out (in-game);
Back hardware button: Toggle virtual keyboard (hold to toggle keyboard shortcuts).
TIPS:
If your game doesn't start, crashes or hangs often try toggling "Software rendering" option in prelaunch menu;
Default tileset is high-memory consuming; if game crashes during world creation, try changing tileset to another one (e.g. "Retrodays");
Adjust terminal size under Settings > Options > Graphics (requires restart).
There are multiple Android-specific options live under Settings > Options > Android;
Keyboard shortcuts for frequently used and/or context sensitive commands appear at the bottom of the screen;
You can remove a shortcut by flicking up on it. Hold it down to see help text;
For the best keyboard experience, use physical keyboard or SSH-friendly virtual keyboard such as "Hacker's Keyboard" on the Google Play store;
If game does not react to touch commands (swipes and shortcut bar does not work), try to disable any accessibility services and apps you might have running (e.g. touch assist, autoclickers etc).
ADDITIONAL INFO:
You can also install more frequently updated experimental versions –  play.google.com/store/apps/details?id=com.cleverraven.cataclysmdda.experimental
You can visit project page and follow development here –  github.com/CleverRaven/Cataclysm-DDA
You can find design doc here –  cataclysmdda.org/design-doc/
Cataclysm user reviews :
It still has a long way to go, but, gosh, it's is a perfect RPG I was looking for years. If you got past pretty high learning curve u won't regret it. Truly open world, tons of different enemies, base building, crafting, vehicles, NPC system… U can really write your own unique story. Keep in mind – it's still in development, so a lot of stuff is very unpolished, but even now – it is really, really great.
I love this game, I've loved it for a long time. But if you're reading this, chances are you've enjoyed it as well. I want to talk about a few bugs ive found when chatting with NPCs, I can't find a way to open a virtual keyboard. ive tried outside apps to help, but minimizing the game/opening another window seems to crash the game 3/5 times. this is the only major issue I've run into, other than a few crashes and bugs (dont forget to save!!) this game is amazing. Thanks for the amazing port!!!
Thanks for your review. We hope things would get better in upcoming versions.Stay in touch with us!
This is a very good port. I have not seen a game of this genre ported to mobile this well. The only problem I experience is switching windows. Sometimes it'll crash the game, sometimes it won't. Switching to a different app and back seems to help. There's an option to save the game everytime the app is closed, which I recommend. You'll be using your whole keyboard for this game. It takes time getting past the learning curve but well worth it.
As a port of CDDA, it's great! Runs like a charm, plays good, has good controls… but it has a few flaws that have cost it a 5 star rating. Firstly, the keyboard smushes the screen when it's out, making the game unplayable. Secondly, it isn't the newer version of CDDA, which is a big problem because it has lots of bugs and missing features that were fixed in the newer releases. It's nice if you don't have a PC or don't have access to one at that moment, but if you can play the OG, do it.
Of all the free games out there, this one is highly underappreciated. There are no ads and it's a quality product. The controls on android are hard to get used to with it being a direct port from PC, but once you understand the controls it becomes easy. This is a Roguelike Zombie survival game, perhaps one of the best on android. The game experience is customizable through preloaded mods, allowing you to modify your gameplay. Give this game a chance.
Thank you for your review, Kevin! We appreciate that.
This game is a masterpiece. Like many have said, the controls are a bit unwieldy, but so too would any game that has as many button commands as there are keys on a keyboard (including upper and lowercase letters!) Initially, graphics may not be the prettiest to look at, but once you find a tileset you like, it has plenty of charm. Aside from that, the gameplay is brutal and unforgiving. The world doesn't care if you're dead or alive, you're just another of the billions lost in the Cataclysm. A+
Thank you for your review, James! Good luck in your Cataclysm!
Contact developer :
Download Cataclysm from Play Store
Leave your feedback regarding Cataclysm
If you like the content that we provide since 2012, put a smile on our face and give us a like or share this with your friends on any social platform. If you want to support this project, any crypto donation of $0.5, $1, $2, $3 is welcome!
You can find our crypto wallets on https://free-apps-android.com/buy-us-a-coffe/
Sponsored Links