[Game] CivCrafter
 free games from android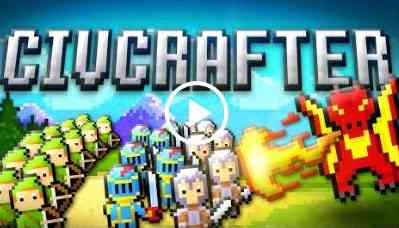 CivCrafter  YOUR KINGDOM AWAITS
Gather resources, build an army, and battle clans for world supremacy. Will you be a benevolent ruler or a vicious tyrant? The choice is yours!
JOIN OVER 50 MILLION GAMERS WORLDWIDE
And find out why Naquatic apps like Guncrafter and Shooting Showdown have lit up the top charts and been featured by everyone from Google to Apple, Amazon, Microsoft, IGN, AppAdvice, and TouchArcade.
CivCrafter user reviews :
Surprisingly good. It gives me weird Age of Empires feels for some reason. Maybe it's the way I have to manage food production and consumption. In any case, I'm really liking this so far. The graphics are pleasing, the music is charming, it all works well together. My only criticism (and it's early, yet) is that there doesn't seem to be much "active idling" to be done in the early game, however it progresses quickly enough that you're not often left sitting on your hands either.
I get that the microtransaction currency has to have value, but as long as you don't mind tapping until your fingers are sore, it is ALWAYS faster to complete buildings/spawn people by tapping build 1 a bunch of times… spawning in bulk is pretty useless for this reason. It's an alright game, but it could sorely use some quality of life improvements.
It's a good game simple, but in a good way it's not overly complicated. While it's not openly stated the game encourages constant growth. My main problem with it is the ads the way they put them in is when you change tabs, completely throwing the pace of the game off.
Really like the game but I dont like waiting times for some upgrades, you have to spend gold to speed the upgrade up when I think an ad should reduce the time instead of needing to spend gold. Good game otherwise.
It's an ok game. Progression only happens when the game is open, which is balanced by shorter research times. For me though it's too active to be an idle game and too slow to be an active game which makes it not as enjoyable as I'd like.
Gameplay loop isn't quite as amazing as some other games but has some of the best of idle clicker/tapper game mechanics. You gain multiple resources instead of just money which is better than others in my opinion because there's more to track and make use of.
The game is great and fun but I wish there was notification noise or something when a wolf attack comes so I can tame the wolves. I have had no other problems with gameplay.
Simple yet very enjoyable. It's not the average mind numbing idle game that goes on forever with no point yet still begs for money. Very minimal ads. Great game
Great Game Only thing I dont Like in this Game Is that It cost so much To join a Clan
Great lil time waster This is definitely a very addictive and simple game. Not much going on but there is something satisfying about building numbers up to stupidly high values. It also has a nice feature where nothing will happen unless you actually have the app running (apart from the real time wait periods etc). Means that my dudes won't starve if I don't pick it up for a while. All in all this is a good all round game. Can't wait to see what cats are for.
Love it love it love it Love it to death. One thing thow if you can it be really nice in the next update if the raids or attacks from wolves or bandits are in red that be really nice
Contact developer :
Video :
Download CivCrafter from Play Store
Leave your feedback regarding CivCrafter
Get more android apps/games/updates
Subscribe to our mailing list and get new android apps / games and updates to your email inbox.
Thank you for subscribing.
Something went wrong.