[Game] Demons Choice RPG
 free apps android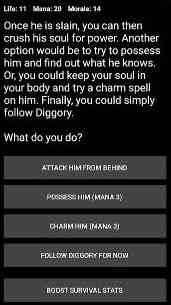 Play as a succubus in this choice-driven text adventure set in a medieval fantasy setting.
You're Azizella, Binder of Souls, and you have just escaped the Abyss. Now, a free demon, you seek to outwit the fiends that hunt you as you plot your own rise to ultimate power.
It's like a series of your favorite fantasy novels, but gamified to be even more awesome!
Your choices change the story and alter survival stats you need to make it to the end of each heart-pounding adventure.
Azizella is a character from the Ring City Universe, the same setting as "Wizard's Choice" and "Rogue's Choice". From this game, you now enter a vast adventure, full of twists and turns and epic world-building!
Written by Sam Landstrom.
Features
Zero learning curve. Read the story and make decisions.
Life, gold, favor, and morale are tracked.
Outcomes are determined by decisions you make.
Score and rank at the end.
Accessible to blind users.
Demons Choice RPG user reviews :
Although it has no pictures, it is very good for me! Some exciting aventures and tricks. Yeah. Anyway, I like it
Good so far. I didnt realize there would still be "watch video to make coins" after paying to unlock.
Love it,just needs more chapters!
Incredibly poignant and engaging.
Beautifully written. The story really sucks you in. I decided to support the author and I'd honestly read a book series written by them because the game is like reading a immersive awesome book! Seriously, get it. Author, if you're reading, fantastic work. From me, that should mean something because I am extremely picky about books.
Honestly, one of the best stories ive read so far! Not to mention not always needing a ridicuulous amount of coins to get into the next chapter. I do wiah you could get more mana and luck but still, i cant help but want to proceed with each page i turn! This author needs a whole lot of credit
The fact that this game doesn't have tickets and keys is a huge bonus for me alone. I like how the stats work. I will also say I just started a cpl days ago and am only in the 4th chapter but so far so good. The reason I didn't give this a 5 star is because I feel the rewards are good but should be a bit more generous for a good game played.
Fun game… REALLY easy to die. Even when you have choices, some of them are guided because all other options lead to death. The story had potential, and this is one of the rare "free" apps that is actually decently priced (thirty dollars for the whole story. Most apps like these require you to spend hundreds of dollars for half of it). But it lost me. I didn't like how hard it was to figure out the right choice and how limited your options were when you made a wrong one
Great gameplay! The fact that there's no need for diamonds and keys makes it the greatest role play application! By far, it has the best storyline in the appstore! A must!
Delight Games

Thank you for the glowing review! Best one. Very happy you think so. :)
I love this game so much BUT when i installed it, it kept telling "unfortunately Demon's choice has stop" i have'nt even open the app .Meanwhile in my other phone it was ok with no probs
I literally couldn't put my phone down! GREAT READ! I'm COMPLETELY engrossed in the current story. I was extremely reluctant to even take 60 seconds to rate this app, but my appreciation for enthralling prose, produced an overwhelming sense of duty, to convey both thanks and praise to the author (or authors), whomever they may be!
An excellent choice adventure game for adults. Layout is user-friendly; it is very easy to navigate. Aesthetic is good. The story is dark and exciting. It draws you in with its visualization and well thought out choices.
Contact developer :
Download Demons Choice RPG from Play Store
Leave your feedback regarding Demons Choice RPG
Get more android apps/games/updates
Subscribe to our mailing list and get new android apps / games and updates to your email inbox.
Thank you for subscribing.
Something went wrong.