[App] Ecosia Browser – Fast & Green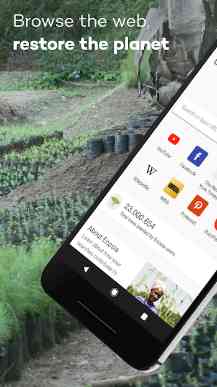 Ecosia Browser : Make Ecosia your default browser and join a global community of more than 7 million people reforesting the planet with their searches.
Ecosia is the tree-planting browser. We use the money we make from searches to fund reforestation programs and empower communities around the world.
Download the Ecosia browser and plant trees for free, just by searching the web.
Features
Ecosia Browser is based on Chromium and is as fast and secure. It gives you an intuitive browsing experience with everything you need:
Tabs
Private mode
History
Bookmarks
Downloads
Ad-blocking
Planet over Profit
Our goal is to build a greener and better world for everyone, not to maximize returns for shareholders. That's why we've made a legally binding commitment to ensure that no profits can ever be taken out of the company. As part of our vision to end deforestation, we want to plant one billion new trees by 2020.
Why Trees?
More than 25% of the world's population rely on forest resources for their livelihoods. By planting trees you can fight climate change, restore landscapes, protect wildlife and help people by providing nutrition, employment and education. In the long term this leads to healthier, happier and more economically stable communities.
CO2 Positive
We are more than just CO2 neutral. Ecosia owns and operates its own solar plant to power your searches with 100% renewable energy. In fact, thanks to the amazing trees we plant, each search actually removes around 1 kg of CO2 from the atmosphere.
Ad-Blocking
Ecosia Browser comes with the world's most popular ad-blocking powered by ABP. We block annoying ads for faster browsing and up to 50% less mobile data usage.
Privacy
Forests need protecting and so does your privacy. We do both:
We don't save your searches
We don't track the websites you visits
We don't sell your data to advertisers
Your searches are always SSL-encrypted
Transparent
We know that trust has to be earned. That's why we publish all our monthly financial reports and tree-planting receipts on our website.
Learn More
Find out more about our tree-planting projects, team, and mission on our website: info.ecosia.org/
Follow us on our Journey to 1 Billion Trees:
The Ecosia Blog: blog.ecosia.org/
Facebook: www.facebook.com/ecosia
Instagram: www.instagram.com/ecosia/
Twitter: twitter.com/ecosia
YouTube: www.youtube.com/user/EcosiaORG
You may also like
Ecosia Browser user reviews :
Amazing app, extension and initiative. Doesn't sell your data. Runs on renewable energy. Uses profits to plant trees. It's fast, it's clean and it's reliable. I couldn't ask for anything more. Keep up the great work guys! Everyone should download this app and their extension on PC. Every little bit counts. Thank you very much for doing good in the world Ecosia! PS: If you could add a dark theme to this it would make it even better!
The most recent update (3rd April 2019 I believe) has massively improved playing videos in the browser. I use it for YouTube since the YouTube app is almost identical, apart from its insistence on running in the background 24/7. Ecosia still sometimes struggles or crashes with larger websites, like forums with multiple embedded pictures and videos. But as long as the cause is genuine, I'd say it's worth using. You can also just make the Ecosia site your homepage in your preferred browser.
I keep getting messages that "Ecosia has stopped working" and "do you want to force quit or wait?" Not just when the browser freezes, but also sometimes when it's just lagging a bit and sometimes when it's not even open amd I'm not using it. Other than that, the browser works fine, no slower than the Chrome app with very similar functions, and I'm happy to be helping a good cause!
LITERALLY CHROME But run by an ethical and climate-conscious corporation. No reason not to get it.
love the idea of planting trees but since the last update the app just won't stop 'stopping' even when its not in use. fix it asap pls.. it would be a shame not to help mother earth in the simplest way possible
I love that this app uses the money it makes to plant trees and help grow our planet's forests
Great browser and help to plant trees every time you use it!
Contact developer :
Video :
Download Ecosia Browser from Play Store
Leave your feedback regarding Ecosia Browser
Get more android apps/games/updates
Subscribe to our mailing list and get new android apps / games and updates to your email inbox.
Thank you for subscribing.
Something went wrong.