[Game] Evolution of Species 2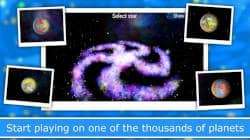 Before you open a huge world, which is teeming with life!
Thousands of planets with millions of inhabitants who seek to lead the food chain. Choose one of these planets, create your creature and go to conquer a new unknown world!
Help your creature evolve from the simplest resident of the microscopic depths into a vivid and unique creature that can stand for itself.
Use your imagination and create the most unusual creature! Show it to the world! Share it with your friends or compete with other online players.
Game features:
Participate in evolution! Create unique creatures using a flexible set of settings, dozens of different body parts and many color options for them. Countless unique combinations!
Choose from thousands of planets available for life, compete with bizarre inhabitants and become the strongest one!
Develop your creatures in clashes with real players around the world. Prove that your creation is invincible!
Share your creatures with your friends and add their creations to your game. Find the most unusual form of life!
You may also like
Evolution of Species 2 user reviews :
I understand you need ads to keep the app free, and to not cost money. But if it's possible, can you lower the ads?? Because I spend most of my time watching ads then I do playing the actual game. It's still a good game though! But, kinda a rip off, because you copied Spores, didn't you? It needs some work, graphics aren't the best, ethier. Four stars for now. I'm waiting for updates, thank you.
It is a great game that I thoroughly enjoy, however there is one issue or bug I have. About 50% of the time when I open the game, the buttons (play, settings, etc.) do not respond. I can watch the little creatures push the buttons around, but I can't play the game. It's quite annoying that I often can't play because the buttons don't work. If this issue was fixed, the game would be perfect and I would gladly rate 5 stars.
The game is pretty fun, it would be better if you could set the difficulty (easy: enemies evolve slower than you do, Moderate: enemies evolve at the same rate, Hard: enemies evolve faster than you) I think this would greatly improve the game, along with maybe more body parts and have the shape of the body more adaptable (eg. Really long, like a snake). Overall a good game just for long car rides
Freezes a lot but otherwise very fun, obviously made to be a mobile spore. I'd love to see a land portion of the single player game further along. Main problem is the freezing, I have to close out of the app and come back in only to have it freeze again. Sometimes I get caught in the loop and give up on playing before it stops freezing.
It's an ok game, a good way to pass time, but there are a lot of things that get me angry. First of all, one of my creatures that is over 1000 health gets easily killed by a small creature with a weak jaw/mouth. And another thing is that I was at full health then I just suddenly died from nothing. There were creatures near me, but none of their beaks or prototypes were pointing towards me at all. And this is in single player. Again, it's a good game, but it's best that you fix the bugs.
If you ever wished that the very first minigame of Spore never ended, this is the game for you. Because of the level caps for various body parts, the newest or most expensive part isn't necessarily the most powerful when fully upgraded. So after you find a working setup you're going to spend the entire rest of you playthrough eating and upgrading your existing body.
After paying to permanently remove ads they have reappeared.* Addictive. Appreciate the ability to choose a server & a room and the ability to resize a piece before placing it by tapping settings in the editor (bottom left) while continuing to hold the piece. Strongly diskike that after topping out, DNA no longer accumulates. Only option is to purchase. Would love a max button for upgrades vs going through each level. Ads kick me out and changes are lost, worth paying to remove.
Bit difficult to start with and a bit boring with how slow you are but overall pretty fun Poison Is waaaaaaay to over powered on most enemies, damage per second is crazy and the cool down for it is waaay too quick, you pretty much have to use a ranged weapon to even try and compete with it. And if it does so much damage whilst blinding you then that's even worse.
I've always liked evolution of species, so when I saw the second version, I mentally squealed. As always, a great game, bugs have been improved, the other creatures are more varied and good to look at, multiplayer exists, honestly this game went from good to better. My only complaint is that it's hard to grind normally (bit since the online version doesn't have this problem, it's not a real complaint). Great game and cudos to the creator/s!
Contact developer :
Leave your feedback regarding Evolution of Species 2
Get more android apps/games/updates
Subscribe to our mailing list and get new android apps / games and updates to your email inbox.
Thank you for subscribing.
Something went wrong.