[App] EZCast – Cast Media to TV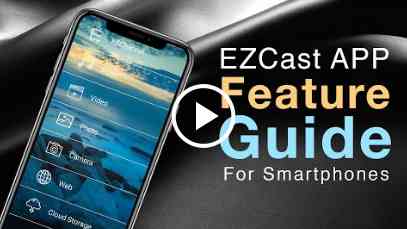 Thank you for choosing EZCast!
EZCast app will help you cast any smartphone and laptop screen to an HDTV or a projector using EZCast's wireless or connected display solutions.
#Features:
1. Faster Wi-Fi Setup – Supports Wi-Fi setup by scanning QRCode or using Bluetooth.
2. Create Your Own Video Playlists – Use EZChannel to watch videos across YouTube, Facebook and more, and add your favorite videos into your playlists.
3. Share Cherished Moments – Re-live best moments with family photos on the big screen.
4. Immersive Viewing Experience – Play mobile videos on a big screen for the best viewing experience.
5. Bigger and Clearer Web Browsing Experience – Browse the internet on a big screen.
6. Supports Chromecast – Supports casting to your favorite wireless display receivers, including EZ Cast and Chromecast.
#Where to Buy EZ Cast Universal Display Receivers:
www.ezcast.com/product/ezcast
#Support:
Please feel free to contact us: support[at]ezcast.com
EZCast user reviews :
Used to be a good app on my old phone. Downloading on new phone and the process is different to mirror your phone. Every time I click out the app it disconnects. I am not able to mirror anything from my phone. Only way to get on internet/youtube I have to go thru there web. Can't mirror games or nothing. When you go on youtube it buffers all the time. Never did that on my old phone. Can y'all please go back to the system y'all were using before, cause this piece is pointless now. Now I have
Winner Wave Co.,Ltd.

Sorry for the inconvenience. For providing you better customer services, please specify the information to support[at]ezcast.com for us: Dongle's SSID: EZCast-12345678, for example (or photo the bootup image for us) Symptom: Fail to stream…… Phone model and os version. Or you could refer to our FAQ website: www.ezcast.com/service/help
Hi! I watched the video but it doesn't apply to this since I got this device over 5 years ago or so. But regardless my phone still does not detect ezcast even when connected to it's WiFi. I'm starting to think it's a Motorola G7 problem and not an Ezcast one but still any help would be appreciated. Thanks!
Winner Wave Co.,Ltd.

The issue may come from unstable power supply. Please use an external 5V/1A power adapter instead of TV/projector USB port to provide a more stable power supply. Or do you purchase the Wire dongle rather than Wi-Fi dongle, which could only connect via USB cable and doesn't have Wi-Fi module and unable to detect and connect via Wi-Fi?
hello i have problem i connect huwaei p30lite to the tv when i'm in the app the sound. came out from. the tv but when i use the miroring out off came from my phone so i can't watch omline movies by google or my big problem is the game so plz any help? i did every thing they said in the instuction
Winner Wave Co.,Ltd.

December 23, 2019

Sorry for the inconvenience. Did you use wifi dongle or wire dongle? For wifi dongle, you may use the mirror on function so that you didn't get sound, please connect by EZMirror function. www.youtube.com/watch?v=N3e-ddsmTKU About wire dongle, due to part of Android phone didn't support AOA protocol, it may cause to sound go out by phone.
Hii Team EZ I am using on Vivo V11 Pro With both the App and Dongle softwares latest Ver. 17957001 Problem: On clicking video the app is getting disconnected from TV and not showing video directories. Please give immediate update.
Winner Wave Co.,Ltd.

Please don't connect too many devices onto router when streaming or mirroring. We also suggest use an external 5V/1A USB adapter instead of TV USB port to provide stable power and WiFi connection. Besides, please close other using app and permit EZCast App run in background.
Like to play my phone's stored videos onto my 40in tv. Works great
Winner Wave Co.,Ltd.

Thanks for your feedback!
Contact developer :
Video :
Download EZCast from Play Store
Leave your feedback regarding EZCast
Get more android apps/games/updates
Subscribe to our mailing list and get new android apps / games and updates to your email inbox.
Thank you for subscribing.
Something went wrong.