[Game] Galaxy at War Online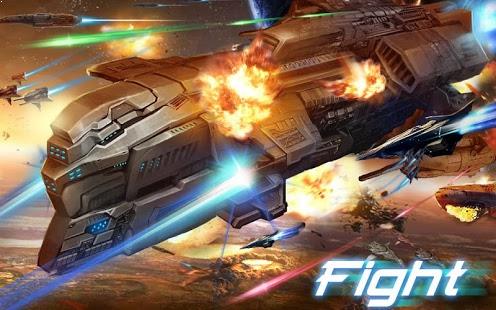 TOP SCI-FI STRATEGY ONLINE GAME!
Fight for control of the galaxy, conquer the universe, and lead your alliance to victory!
Facing potential assault from enemies on all sides, you'll need to discover and colonize new planets, build your military bases, produce epic battleships, and regroup the most powerful forces.
Command your fleets, and wage wars to expand your reign across the galaxy!
FEATURES:
FREE to play online Sci-Fi strategy game
GORGEOUS graphics bring you into a detailed universe of the future
ALLY with your friends to joint strike and joint defense in epic wars
BATTLE with players from around the world
EXPLORE planets and gather resources from across the galaxy
PLAN strategically to conquer each galaxy of the universe
JOIN special events, competitions, and much more!
You may also like
Galaxy at War Online user reviews :
Okay So, the game is better than most like it, and it's easy to climb up without having to pay anything…. But.. This is why I have rated three stars, I was forcefully moved to a different server, that server is now gone, this would not be a problem if It didn't mean i lost my other three planets. They are nowhere to be seen, the resources in them, gone, the fleets, gone, I mean a quarter of my fleet is gone now… If you could fix this, Id be thankful, and would rate four stars.
It's great. I love the challenge of building up. It's alot like Ogame but seams to go a bit faster which is nice. Just love strategy war games like this.
This is bad. The game has no restrictions that protect new players from the high level players. They will farm you and you won't be able to build ships or advance in research or upgrade buildings. That moment you have resources to spare boom it's gone by a man with 200 battleships. They need an experience cap so players like me who have nothing to defend myself with, build up on resources so players like me can play catch-up with the already experienced players.
I played this game when it first came out years ago,I made lot's of friend back then.Only left due to real life problem,the game has not changed in anyway.But like in any game you can earn helpful gifts for good growth.And yes it can be slow and you will get your fleet wiped sometimes.But if you can get over that and learn to fleet save , you can have a good game.And make friends on the way.My advice is when you start make the most of your free protective bubble.use your alliance chat too.
Since I'm only allotted 500words to describe the unbalanced of this game I cant show you the math supporting this review. Lucky them  Destroyers are the only needed ship as their tech is doable at lvl 9 Hyperspace Drive. Costing only 5mil metal, 10mil crystal, and 3mil gas. Crystal being the hardest resource to acquire and hold. Lvl 12 drive costs 40mil metal, 80mil crystal, and 48mil gas. The only reason to go this high is to get death stars. By their calc 1DS is = to less than 90 destroyers.
In general the game is good, however, the customer support is terrible. I got kicked out of the game by an issue with the server, and when trying to log back in I was met with an error notice on my account name (which I use on many apps so it NEVER changes). I emailed shinxjoy and it took them 4 days to get back to me. Apparently if I give them ALL my details they can give me my acc details…is this AFTER they change my account name to cover their error????
I enjoy this game. It does have a certain 'reality' to it. Some players, having more money to spend, become much more powerful, much quicker. I can be interesting trying to fond ways to keep them from plundering resources.
Great game ruined by bugs but the Dev team have worked hard to repair it. Playable now.
I think you should login a wrong server. I suggest that you login every server and check it. If you still can not find it, please email us: support[at]sphinxjoy.com
I have played this game for years, and its still an awesome game. I'm Jalen Marek.
This game is a real time killer enjoy the battles and it's go at keeping your attention.
Contact developer :
Download Galaxy at War Online from Play Store
Leave your feedback regarding Galaxy at War Online
Get more android apps/games/updates
Subscribe to our mailing list and get new android apps / games and updates to your email inbox.
Thank you for subscribing.
Something went wrong.