[Game] Heroic Expedition
 free android apps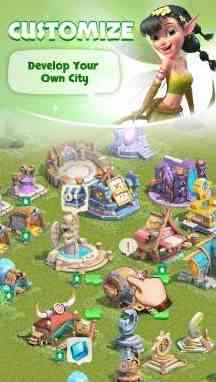 A fascinating RPG game with various gameplay modes.
Fight against the Lord of Disaster who brought great tragedy upon the Divine Realm! Save the world from chaos.
Adventurers gather and grow together here! Begin your Fancy journey in the Divine Realm!
Game Features:
Explore the Norse Fantasy
Exquisite art style and unparalleled visual enjoyment!
Fight against the Lord of Disaster who brought great tragedy upon the Divine Realm
Non-Stop Idle Rewarding
Battle and get rewards even when you are offline!
Upgrade immediately when you log back!
Auto-battle, auto-collect, get rich loots with one click!
Awake and Evolve Epic Heroes
Delicate 3D characters of 5 factions to collect!
Configure your lineup as you wish. Build your own dream team!
Unleash dazzling skills on the battlefield!
Build Your OWN City to Unlock More Gameplay
Construct your own city and cultivate your own heroes!
Exciting adventures, collection, battles, cultivation, and trails! Become a true hero!
Expedition, labyrinth, dimensional bosses… diversified and strategic PVE modes!
Compete Against Players Global Wide
Prove yourself in solo matches and cross-server tournaments. Become the king of arena and get marvelous rewards!
Join a guild and fight alongside your comrades. Build your guild and get more resources!
Contact us:
Email: hecs[at]droidhang.com
Facebook:www.facebook.com/HeroicExpedition/
Twitter: twitter.com/hroc_expedition
Instagram: www.instagram.com/Heroic_Expedition/
Heroic Expedition user reviews :
A bit decent game. Not f2p friendly tho since the adventure feels like a paywall. The storyline should be reviewed back or we have the option to read it manually because the auto storytelling of the story is a bit fast. We should also have the option to read the boss's description manually before battling it. Overall a good game for killing time.
This game have a lot of potential. I really appreciate the unique hero skills, at least its not just a copy paste from other idle games. Also, the thing that i dislike is heroes have the same art lol. Overall good, progress is slow, graphics is amazing. Keep it up
Nothing to say as everytime I click to start the game it fails to launch with a plain black screen. After 30 seconds I have to force close the game, shame really was looking forward to trying it out. Since I play idle heroes religiously
Nice game, beautiful graphics. There is a problem to fix at the moment. Please put translate option in chats so we can communicate with people in other countries. Make it easier to get legendary heroes. Thank you and keep updating the game
I don't know what happen to your game, played for 2 days without issue and was fun. But now every time I open the game it just a black screen. I don't have a phone issue, I'm doing just fine playing other games so unless this issue is fixed I might give it a higher rating. Have tried reinstalling, clear cache etc nothing works.
Gameplay is good. Same as many other games. Game would not load consistently for me. Had to clear data each time… Contacted support..told it was an issue with my internet…it isn't. To clear data or uninstall the game to fix the problem despite providing the details. Still fails to load consistently and force closes on launch. Guess my last fix will be uninstall and ignore the game. Shame as had some potential.
Really like the game. Its pretty challenging early on. I just keep running out of things to do while waiting to get stronger. Wish there was more so I could enjoy the game longer. Also I love zoe….any chance you'd allow her star up higher?
Great game. I have one complaint tho. I need a sorting option in heroes section. Choose between rarity, power, level, color, and between base star level. Like 4 star base rarity or if I upgraded them to 4 star from 3 star for example.
Its very early days for the game, but enjoying it so far. Game plays well from launch and not experienced any bugs or crashes so far. Turn off high frame rate to save battery power though! Good mix of heroes with no particular hero overpowered. I'd like to see the hero artwork mixed up a bit more but its a minor issue. Level of difficulty feels about right.
Liking the game so far. Edit: I can't stop playing this game its really fun and so many things to do, I'm loving it. People saying it's P2W it's really not.
Loving the game so far but please change some hero appearance. They have the same face but different names per faction. It's so weird
Played the early access and loved the game so much I set up my tab to download on launch date. Im not usually one for keeping an eye on release date but couldnt wait. The game is simple to play with great combat and it keeps me busy. Keep up the great work!
Contact developer :
Download Heroic Expedition from Play Store
Leave your feedback regarding Heroic Expedition
Get more android apps/games/updates
Subscribe to our mailing list and get new android apps / games and updates to your email inbox.
Thank you for subscribing.
Something went wrong.