[Game] Isle Builder – Click to Survive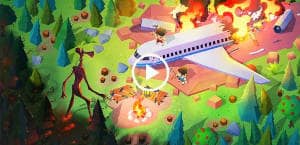 You had an accident and ended up on a desert island.
To survive you will have to master skills such as mining, crafting, food extraction and building!
You must survive by all means and return home. It won't be easy, so go ahead and good luck! Survival on the isle has begun.
Survival game features:
Desert Island – Great Opportunities
Explore the area. It has everything you need to survive! You can find and collect rare resources.
Mine wood, stone, ore to create tools and weapons, and build a house on the isle! Try to survive!
Improve mining, Crafting and Building skills
Survive games are not as easy as they seem. This game allows you to create and craft more complex resources for building objects.
Explore new tools in every possible way! Meet other survivors to help you improve your life on the isle.
It's always faster and more fun to do something together.
Excellent pixelated 3D graphics
Survival seems more real than ever. Just imagine that you unexpectedly find an island with a giant forest jungle in the middle of the ocean.
Choose your survival strategy
Explore new lands in every possible way, now you are a real survivor. Build your own hideout on the island.
Explore new places, craft tools, gather resources for construction. Building a house on an island in the ocean is no easy task! Do it now!
If you like strategy survival games, you will love this game! Enjoy the new survive simulator now!
What are you waiting for? Survival on the isle has begun.
Isle Builder user reviews :
if it weren't for the anoying ads shived up youur throat every several seconds, might be a good experience, however the little survivors get randomly stuck if their speed is upgraded over lvl 30, and you have to restart the game so that they continue normally. AI is kind of bad, cause some times they go for the furthest spots first making your upgrades slightly useless …
CASUAL AZUR GAMES

Hi! We're happy you like the game. Your opinion is important, as it helps us to improve the app. Thank you for the feedback!
Game has potential. Not being able to close the Build or Upgrade menus is a really annoying bug. Please fix. I also think that you don't need to tell people what to do at every step. A simple tutorial would be fine, then leave people to play the game rather than holding their hand. Include rewards for meeting milestones, like for example "upgrade the tower" rewards you with 10 food.
CASUAL AZUR GAMES

Hey there! We're so glad you gave our game a chance. Keep playing
Actually not a terrible game, It's just too bad there isn't any offline progress, granted most of the building doesn't take that long and it probably isn't necessary, I just don't care for idle games I have to keep open and check in on every few mins and ignore the rest of the time.
CASUAL AZUR GAMES

Hey! Thank you for your feedback! We're doing our best to make the game even better. So your feedback is really important to us. Stay tuned for the updates!
Good concept of games. There is a glitch in task/upgrade menu closing button. It is not working. Please fix this. Every time I open thise menu I have to shutdown and re open the game to resule normal play.
CASUAL AZUR GAMES

Hi! We're happy you like the game. Your feedback is important, as it helps us to improve the app. Thank you for the feedback!
Well I did want to give 5 star at first but there really isn't anything to in this game other than to watch ads and top of to exit out of any of the menu or say like upgrades people or craft able stuff you have to exit out of the entire game and if did watch and ad it gets rid of what 2x speed or the extra person even if there's 1 min or 3 mins left
CASUAL AZUR GAMES

Hello! We'll take it into account. Sponsored ads help us make the game free to play. Also, advertising helps you to reach a higher level and get different useful things in the game!
Fun game so far but have issues with the upgrade and crafting menu. Won't let you exit out of it, and the only way do do so is close the app and reopen it.
Contact developer :
Video :
Download Isle Builder from Play Store
Leave your feedback regarding Isle Builder
Get more android apps/games/updates
Subscribe to our mailing list and get new android apps / games and updates to your email inbox.
Thank you for subscribing.
Something went wrong.