[Game] Loved by King Bs
 free apps android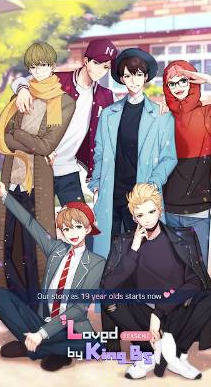 Did you miss me?
The guys from are going to college now!
I 'pretended' to be to be his girlfriend,
but I ended up becoming his real lover.
He is a well-known Tsundere.
I thought my life flipped upside down after getting marked by them, but unexpectedly, they are the ones who changed markedly because of me.
Seventeen, Eighteen, and then Nineteen…!
What has happened to us?
The second story of myself, who wanted to live an ordinary life, and five unordinary-gorgeous King Bs
Plus, an appearance of a weird(?) university senior  who's only cold towards me, but acts nice from time to time!
I really feel like I've been…
Marked by this senior…!
Squartle, I really missed you, darn it.
The return of Squartle and 5 King Bs
as 'Loved by King Bs',
Plus an appearance of a new senior from university.
Aren't you curious of this spectacular story?
requests permissions to provide service.
In-app purchase (Required): Used for in-app purchase.
ID (Required): To log in to the game through Google or Facebook account.
Contact (Required): Prevents abusing of event participation, and receiving duplicate rewards.
Phone (Required): To participate in events and to receive rewards.
Wi-Fi Status (Required): Checks internet connection for data download.
How to remove permission.
Android 6.0 and above : Settings > Apps > Select app > Permissions > Select to allow or remove permissions.
Under Android 6.0 : Due to the characteristic of the operating system, you can remove permission by deleting the app.
You can purchase in-app products.
('Consumer Protection Laws Under E-commerce' may restrict the withdrawal of applications.)
This game requires additional data download on first play after installation.
This process requires stable internet connection. We recommend connecting to Wi-Fi.
In case of unstable internet or connection loss, an error may occur during download and the app may not run properly.
If you have any inquiries, please send us an E-mail with your phone device model name and detailed information of your problem through following address: day7officialinfo@gmail.com
Terms of Service & Privacy Policy : admin.becomead.com/provision/provision.php?lang=en
Website : www.day7games.com
Developer : 82-10-4182-2221
Loved by King Bs user reviews :
I'm not saying it's a bad game, actually it's pretty good but I'm not yet finished with the game because I'm stuck at Tiffany's checkpoint which is quite dissapointing because ads are just over 5 and it's unlike season one because there is no need for this. Hoping you can make it easier because it's tiring to gather points like for 2 or 3 days just to match the charm and proceed with the story!
I enjoyed Marked by King Bs so definitely had to play this one, but unlike season one, you can't just go through the whole story to get a normal ending and earn coins to get the higher charm outfits and happy endings. Like many others, I'm stuck at Tiffany's charm checkpoint. I have managed to equal her charm level and still can't continue the story. If I still can't move on after getting 100% charm, I'll be very disappointed.
This one is sooo better than marked by king Bs..and the way to earn coins is much more easier..the only thing I didn't like that it's too short(at least for me)..I want more cause the story,the dialogues, the personalities are defined perfectly..please make season 2,3,4 and more..please
Unlike most games, you don't have to wait for tickets to refill to read another "chapter/episode" and I think that's really awesome since you can just binge play the whole game in a day. Though you do have to get coins to advance in the gameplay even more and unlock all extra side stories and all, I enjoy the game. A suggestion I have would be to have some sort of a chapter menu maybe, so you can just access the chapters from there? It takes a while to tap/skip through the whole game just to get to the endings to choose a new ending, it's very tedious.
If all of your games had a option to be in english then I would habe no more storage in m my phone because it would be filled with your games. So far I think I have each English game you have created or have at least played it once of twice. I love the artwork, the characters, the choices, the themes, and so much more A comment on this game would be that I love the characters especially Nicholas and Joel. I have been reading the comments about the grammar and think that it is perfectly fine!!
This was a amazing app! The characters are well designed and the gameplay was perfect along with well detailed graphics. One of the best otome apps I would play however… there is a reason I rated this 3 star and not 5. The game was great until I got to episode 23/24 and I had to either change my outfit or move on. I was unable to move on to the game without changing my outfit and at the same time didn't have enough coins for the outfit I was hoping to save up for. Currently unable to continue.
Contact developer :
Download Loved by King Bs from Play Store
Leave your feedback regarding Loved by King Bs
Get more android apps/games/updates
Subscribe to our mailing list and get new android apps / games and updates to your email inbox.
Thank you for subscribing.
Something went wrong.