[Game] Metal Slug Defense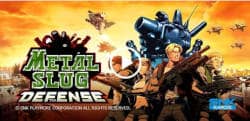 Discover a game that has been worldwide acclaimed!
This game has been succeeded by Metal Slug Attack.
Enjoy new characters, updated features and more in Metal Slug Attack.
Here are some of the reasons of METAL SLUG DEFENSE's success:
Intuitive controls & intense action !
"METALSLUG DEFENSE" has become a worldwide success thanks to its very simple controls and its addictive gameplay!
4 players can battle each other via the Multiplayer mode!
Up to 4 players can confront each other in 1-on-1 or 2-on2 epic battles in multiplayer!
Intricate 2D dot pixels!
The characters of the "METAL SLUG" universe, who were created by the best dot-pixel artists, return to fight each other in "METALSLUG DEFENSE"
Epic battles between human beings, aliens and gigantic robots!
More than 200 different characters divided into 5 armies (Regular Army, Morden Army, Marians, etc.) join the battle in "METALSLUG DEFENSE"!
Characters from "KOF join the universe of "METAL SLUG"!
The most popular characters from the 2D VS Fighting game series "KOF" are ready to battle with their trademark moves in "METALSLUG DEFENSE"!
Official Facebook fan page:
www.facebook.com/SNK.METALSLUGWORLD/
©SNK PLAYMORE CORPORATION ALL RIGHTS RESERVED.
*[Important] Warning regarding Android 5.0
This app may not run correctly under Android 5.0
We are currently working on the compatibility with Android 5.0
We apologize for the inconvenience that may cause to you and thank you for your understanding.
You may also like
Metal Slug Defense user reviews :
A wonderful gift from SNK to MS fans. SNK put a lot of thought and love into this epic marching-defense game and it shines though in the fun, engaging gameplay and recognizable characters & enemies from throughout MS history. If you're a Metal Slug fan from back in the day or new to MS, Metal Slug Defense is a great FTP game you'll soon grow to appreciate as it offers much variety and encourages creativity. You can spend cash to show support but it's fine as FTP only. Thanks, SNK.
This game is the best stratigy game i have never found!! Very interested to play!But it still old and online matches no one online btween it crashes in the download screen.Cannot be playable for now..but I enjoyed it story and other thing:Snk sorry about this game it died but you make a good job in (Metal slug attack)
The thing i hate about this game is: why the heck do they want my location and managing phone calls, and why do they need my photos. Its just not cool it would be a better game without these grants. But im afraid to lose my personnal information.
Probably good but it has extra stuff you need to download which just stop, but it also asks to make and manage PHONE CALLS. Fricking phone calls. Imagine calling someone and then hearing"Metal Slug Defense has denied your call, try again later Marshall" At least I thin that's how it works
Last updated 2016. Honestly do not know why they stopped producing this, it was an absolute winner. Take the units from metal slug attack and implement into this game and it will be
I love this game SNK i remember when i was 5 at that time i always play this game sometimes i play this game even is 3:00am (btw i try this game again and still 5/5 for me) if your download is slow (because it will download agian if you enter the game) download the game before you sleep and let the app/game open until tommorow and when you wake up the download is finnish (btw i add a mod that is unlimited medal and msp which is i find in web)
this game is super fun if you are able to play it because apparently a lot of people have problems starting it up but anyways its a fun game with secrets and pretty hard too unless you get the right strats and the gameplay is cool with the metal slug characters from the original game……..yea thats my review, just a cool game all around if it works for u
This is classic wonderful game which is now dead. I hope we got some new patches and update from publisher and developers.
Nice game, love it, my favorite game ever. The thing that makes me upset is there's no updates in it, like new modes or characters. I know you guys are more focused on MSA, but my opinion this game is better. I used to play MSA and I didn't liked it much. This game is way better, but no updates? It would be nice to see some updates in this game. Other than that, nice game
This game is amazing! I love the general gameplay, the level ups, The missions, The shop to buy the main units, The daily bonus & the online gameplay. The one thing that's really difficult is the "Events" task to unlock extra units which probably needs a lot of simplifying for those who are not familiar in the Events mode. Other than that, The game is fantastic!
Contact developer :
Video :
Download Metal Slug Defense from Play Store
Leave your feedback regarding Metal Slug Defense
Get more android apps/games/updates
Subscribe to our mailing list and get new android apps / games and updates to your email inbox.
Thank you for subscribing.
Something went wrong.