[Game] Monster Storm Apoiion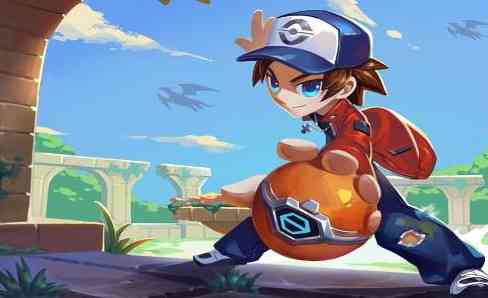 Monster Storm Apoiion Features
Changes in this version.
1. Re-plan the main storyline.
The game will have the largest Sinister organization – the Negative Energy Corps, the player must unite with the partner and fight against the Villainous organization!
2. Many new monsters have been added waiting for the trainer to capture.
3. Redefine the art style of the game.
The maps and NPC and other art resources that the players have seen have all changed, and the style is closer to the classic version of our early play, evoking the players' memories!
4. Re-planned map layouts, levels, etc.
We have retained some of the interesting level designs from previous works, and incorporate the latest map levels designed by our producers, we hope everyone will like it!
5. More hidden designs have been added to the map!
Tips: As long as everyone likes our original monster games, we will continue to update, thank you!
Introduction
Very interesting adventure games, level puzzles, monster battles, skill strategies, etc.
The game is based on map adventures and monster battles. The monsters are divided into 10 types (grass, earth, fighting, fire, steel, electricity, flight, water, light, ghosts), and there is restraint between the types.
Monster trainers can choose different monsters to cultivate according to their own hobbies and needs. Take your monster balls to catch the monster on your adventures.
Challenge and collect Mythical monsters, defeat all the Gym Leaders and become world champions. These are our dreams.
This evil villain will capture monsters for experimentation, and we must stop their crazy plans again.
Let us grow with the monster until it reaches super evolution. Welcome to download experience!
Details
Monster Storm Apoiion is a RPG game with elements of strategy and monster trainer.
To become the best monster trainer in Monster Storm Apoiion, players have to travel all over the world, capture tons of powerful monsters and enjoy this wonderful journey.Explore the world to capture and train your ultimate monster brigade.
FEATURES
Monster Type System
Monster Storm Apoiion is based on monster battles. Monsters have different types that have both strengths and weaknesses. To train different monster according to interests and strategies is the essence of this game.
Main Story
The player in the game dreams of becoming a powerful monster trainer. There are many main quests on the adventure road to help his monsters improve their experience. At the same time, many trainers will challenge them. The villains that appear in this version capture a large number of monsters to experiment and rob their energy to make the ultimate weapon to destroy the world. The protagonist and the doctoral assistant will join forces to defeat the villain's crazy plan, rescue the captured monsters and defeat the villain boss.
Various Skill Combinations
Skill is the key to each battle. Each monster learns different skills as it grows and various skill combinations make the game very interesting.
Send Monster To Friend
Send and receive monsters between friends.
Unique Mechanism
Mechanism System: Unlock the mechanism to challenge Gym Leaders.
Original Scenes
Players can enjoy the battle, roadside flowers and beautiful sky while traveling through the world.
Interetsing Puzzles
Game Hall System: Play puzzles and exchange rewards with coupons.
Various Elements
Other Features:
Big World Map System: Town, cave, lake etc,The best views you have ever seen.
Quest System: Get to know everyone and their stories. Finish their quests to get rewards.
Achievement System: The more you achieved, the better trainer you are.
Also see our free apps android list
Monster Storm Apoiion user reviews :
Monster Storm Apoiion Features Changes in this version. 1. Re-plan the main storyline. The game will have the largest Sinister organization – the Negative Energy Corps, the player must unite with the partner and fight against the Villainous organization! 2. Many new monsters have been added waiting for the trainer to capture. 3. Redefine the art style of the game.
I realy like this game its fun it's an r.p game and a adventure game. But the only thing ring is, 1. They say he instead of she. 2. They have miss spelling and stuff in the sentences. 3. Finally if you could do atou save every time people log out of the game, I think it would do a real bump up on the ratings. Thanks
This game is really enjoyable. It has alot of adventures and storylines which i really like but after collecting the 5th badge there wasnt anymore quest and the game seemed to end there until the next update.. And the game was last updated 2 years ago so i really hope that you guys will update this game asap
A good game! However the gyms are way beyond the level you can get I had to defeat 3 lvl 60 monsters with a lvl 50 beakigeast good thing I knew how the game works, also Items are exageratingly expensive while you get extremely low coins for each defeated monster. One more thing, could you change the requirements for getting the items "aircraft" and "bicycle" as you know getting xp is ridiculously annoying and having to give the mosters you worked hard to get the said items would be discouraging
First i play this game it's really nice but, when i reach and collect the 5th badges no more quest and i can't enter of every secret passage that someone who has a guard but what i think is i need to defeat the Holy Canine (Mythical Monster) first but, Come on! I already have 2 level 100 monsters and that was the Thunder type and Fire type but i still can't defeat it, so really hard. Hope you see my comment below. Thank you
Grinding Excellence. I played for a few days before writing this. The puzzles are hard (isn't that what a puzzle is?). No crashes. Yes, the translation is a bit wonky but dont let that fool you. This is a VERY polished game. The mechanics are all there for building your monsters like Pokemon. EV, IV, Personality etc. Its a grinder. Its fabulous IF you are a Pokenerd. I have played past the first badge. Fishing rod in hand, I begin the caves next. The progression is like Heart Gold.
This game is alot better i bought monster trainer which is your game also i like this one alot more keep updating it oh i am not a kid i am a adult i am also a beta tester for other games also keep up the good work with the new monsters and new maps i also like how she gets her map navigator
I love the game so much a play every day but there's just one problem the 5th gym is so hard I can't beat it I don't know what to do I've been leveling up as high as I can.I would give it a five-star if you make it a little easier
Contact developer :
Download Monster Storm Apoiion from Play Store
Leave your feedback regarding Monster Storm Apoiion
Get more android apps/games/updates
Subscribe to our mailing list and get new android apps / games and updates to your email inbox.
Thank you for subscribing.
Something went wrong.