[Game] Relaxing Night Nature Sounds Offline: Calm & Sleep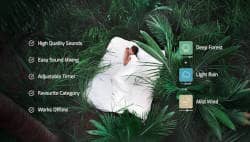 High-quality hand-picked nature sounds gives a great experience of relaxation.
You can mix various sounds to get your desired relaxing atmosphere. This app can be used for relaxing, studying, reading , sleeping.
Night Animal Sounds
In the countryside, there are some insects & animal like Owl, Crickets, Grasshopper, Fox and some more that makes a nice sound at night. If you struggle with insomnia, you're trying to sleep in quickly, these sounds help you nod off more easily.
Lullaby Sounds
Lullaby sound helps your baby to sleep peacefully or block out unwanted noise, and go to sleep faster. The sound will loop automatically and close after the scheduled time.
Rain Sounds
Many of us like rain sounds a lot. This app has many types of rain sound, such as Rain on Lake, Rain on Roof, Rain on Window and more, which will help you to sleep early.
Ocean Sounds
Ocean waves are a popular choice for soothing sleep sounds. For many people, the rhythmic crashing of water onto the sand and rock can be meditative. In this app there are many types of ocean sounds like Wave, Seagull, Sailboat and more.
Forest Sounds
Suppose you lost in the forest, you are in the sound of the birds, waterfall, brooks and many more. You also get the experience of the environment of the forest at night.
It has the easiest way to set timers and so much more.
Favorite Items
Perfect Timer
Relax Sounds
Nature Sounds
Rain Sounds
Ocean Sounds
Wind & fire
Sleep Better
Meditation
concentration
Reading
Relaxing Night user reviews :
Overall it was good but I've noticed the sounds was stopping after i think 3 mins and u need to remove the sound then add it again for it to play again. It's such a hassle. I've noticed it first on the heartbeat sound cause it just stopped but the other sounds is still playing. The timer was off and I know it's not the battery optimization cause I'm still using the app when it stopped.
I really like the sounds and easy to use app…but for some reason it will just stop, even when i have it on a timer. Either that when I'm trying to pick my playlist some sounds just won't play anymore, super annoying. I have to keep going in and out of the app to get all the sounds to play, but it still just randomly stops after like 5mins…even tho It's on a 2hr timer. If this issue was fixed, I'D BE IN LOVE!
This app is everything! I love how you can layer the different sounds to create the perfect experience. You can listen to waves and add in seagulls… But turn them down low so they're audible but not annoying. Add some wind and turn it up a little and you really could forget you were at home in bed. There are so many combinations I'm excited to try more. It also has a timer so it doesn't run needlessly after I've fallen asleep! So happy!
Apps Wave

Thanks for this wonderful feedback. It's really a pleasure to us that our Relaxing Night Nature Sounds app makes you happy.
Really love this app. Being able to pick and choose sounds to layer with their own volume is great. I just have two requests: can you make the frequency of repeated sounds, like the owl, etc adjustable as they're so frequent it's annoying. Also I paid for the premium version thinking I would get more sounds and features, but it just removes the ads, and I guess offline use. Nice, but if I pay more I want to get more. But nice work on this! Thanks
Apps Wave

Thanks for your valuable feedback and using our Relaxing Night Nature Sounds app. Currently we are adding more sounds for premium users who purchased it. Also fixing some sound related issues in the next release.
I'm glad i got this instead of a white noise machine. This is the best relaxing noise app I've tried. Our baby is 5 months old and we just play it off of our phones or tablets over a small $5 bluetooth speaker. We all sleep well even througn a power outage. All of the sounds are realistic and looped well. It's lovely to look at and easy to adjust. Thank you for this wonderful app. Almost too relaxing. I got the full version quick!y because i was impressed with the app very quickly. Well worth it
Love that I can combine sounds at different volumes. Also love that I can set a timer. (I use it this way: I usually set it to turn off about a half an hour before my alarm goes off, so that if I wake up, I automatically know if it's ok to turn over and go back to sleep, because it's at least more than a half hour until my alarm goes off. This really helps me not interrupt my sleep because I don't have to look at any lights or anything.) Really clean interface, and ads are not in the way.
Contact developer :
Leave your feedback regarding Relaxing Night
Get more android apps/games/updates
Subscribe to our mailing list and get new android apps / games and updates to your email inbox.
Thank you for subscribing.
Something went wrong.