[Game] Rules of Survival 2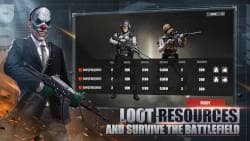 Game Introduction
Created by the original cast of Rules of Survival, the simulating shooter game. Next generation perfect picture quality, the ultimate audio-visual experience, super realistic multiple maps, trading system, fair fighting environment. The spanking real combat for players to enjoy!
Game Characteristics
1. Real-person competition
Fighting with real players from different countries in real time, immersed in the realistic shooting combat!
2. Trading market
Players can trade directly with other real players in the trading shop, battlefield and other scenes. Becoming a business tycoon and sweeping your enemies in no time!
3. Weapon modification
Players can freely modify their weapons with realistic accessories to achieve the personalized shooting experience.
4. Multiple real maps
Players can deploy their tactics in many real maps, including Geely Bay, ordnance, peninsula hotel, railway station and many other simulated maps.
5. Team up with friends
Team up with your friends by one click, ROS survivors can come back and claim all kinds of abundant backflow incentives.
SUPPORT
If you encounter any issues during the game, you can send us feedback via the in-game Customer Service Center.
Customer Service Email: gamerulesofsurvival[at]global.netease.com
Official Site:  www.rulesofsurvivalgame.com/ros2/
Facebook:  www.facebook.com/RulesofSurvivalmobilegame Discord:  discord.gg/qTrr7EsFRm
You may also like
Rules of Survival 2 user reviews :
I gave this a 3 star because there are still soooo many bugs to talk about, the most annoying bug is when you are in tutorial you cannot click anything to continue its so annoying, pls fix this ok? Thank you Netease.
I kinda like it but Its suck. lost light is better than this because I can't customize my layout and it's buggy the sniper is broken when I head a bot it took only 20 damage points on a awm and fix the rifle too it can't even damage bot properly even on face to face hip fire it took me 5 reload too kill 1 bot so pls fix it
The game still a lot of bugs and error countdown time when I play the game Iam soo disappointed right now I love this game but Why the bugs still ongoing but Iam already update the new version still have bug.
The concept, i think it's really close to EFT, but… Why are you using the same engine and server with RoS 1 ? Also there's no custom layout 1 hours matchmaking, no player Damn, you wasted my internet quota
I thought this game is a better version of ROS, but it wasn't I guess old ROS is just memories now.
This game is not ready for release,my home screen is buging and while im in tutorial my screen turns black and i have to restart the game, cant adjust the hud, this game is just a ripoff of escape from tarkov, the graphics is still the same as the original RoS, sorry but everyone is expecting a greater game than the original RoS.
Good game,but can u fix the damage of the shot gun it takes me 3 realods to kill one enemy and also can u add br mode,so that we can enjoy the game
I was expecting better than the previos ros mobile br but I was wrong. It kinda sucks, I know the graphics in every releasing of games are bad but this one is so disgusting. Hope we can customize the buttons because we are not using the same layout.
I give 3 stars because its take so long to queue and theres no HUD customizer please add that
really nice game but aftet i finish the tutorial i stuck in matching up 10 min can't find the opponent
the game is very populre. please optimizes the game size high and low devices . and new mods vehicles and helicopters and ping issue. rating for 5 star
Hi i give this 2 stars, that 2 stars is good for the graphics and gameplay but the 3 blank stars is the problem that i want u guys to update, the battle Royale please give that mode on this game im sure that many players will download this game and enjoy
Very Very nice game but I need 30 fps and ultra HD graphics
The game is really bad it's doesn't have battle royal and the bots play like a pro and I can't fix my HUD I'm waiting for the update
i really love this game since 2018,but now i cant login, when im tapping the play button its says "Wrong client version" so please respond now. Thank you
When i tap play it says wrong client version, I think their updating or game is maintainance bad at english haha i hope they fix it asap!
They merge mobile players and emulator players in same server. It detroys the game when it comes to pvp. Also theres no download for firstperson so we can scope even when there is no scope attachment
Contact developer :
Download Rules of Survival 2 from Play Store
Leave your feedback regarding Rules of Survival 2
Get more android apps/games/updates
Subscribe to our mailing list and get new android apps / games and updates to your email inbox.
Thank you for subscribing.
Something went wrong.