[Game] Shining Force Classics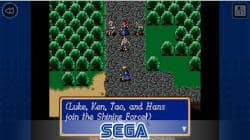 Three episodes of SEGA's Shining series hit SEGA Forever in one single app!
Sharing the same universe but taking the players through different game genres – both 3D dungeon-crawler and turn-based tactical RPG – this Shining saga throws you and your team into deep stories and large-scale strategic battles. Are you ready for the three quests ahead?
Shining in the Darkness
Vanish the fiendish forces of Dark Sol and restore peace to the enchanted Kingdom of Thornwood. Search for the powerful Arms of Light and fight the savage creatures that roam the darkness of the Labyrinth. Use your warrior's skills and cunning to pass the test of the Ancients and become a shining knight.
3D first-person perspective puts you in the adventure
Incredible panoramic and cinematic views
Fast-paced scrolling whisks you from battle to battle, for non-stop action!
Shining Force: The Legacy of Great Intention
The Continent of Rune has slumbered in peace for 50 generations. A horde of invaders swarm across the border, while a dragon that has slept for centuries stirs in its tomb. Only the King's youngest swordsman and his war party can defy the Dark Dragon's evil power and crush the mighty army!
Control up to 10 different characters at once
Increase their skills and attributes through strategy, combat, and exploration!
Search through eight brilliant scenarios
Sub-quests and imaginative sequences make every game a new adventure!
Shining Force II
In the eerie Cave of the Past, a mischievous thief tampers with the mystical Stones of light and Dark. The Stones once imprisoned the Evil of All Ages. Now the deadly Zeon is unleashed. His rage will hurl the galaxy into eternal darkness — unless the Shining Force can stop him!
The legendary epic resumes with an entirely new story, awesome cinematic battle sequences, and incredible monsters!
Build an awesome 12-member strike force from over 20 characters and develop them into fiercer, stronger, more magical warriors!
Experience superb fantasy-style 16-bit graphics!
MOBILE GAME FEATURES
PLAY FREE with ad-support or ad-free via In-App Purchase
SAVE YOUR GAMES – save your progress at any point in the game.
LEADERBOARDS – compete with the world for high scores
CONTROLLER SUPPORT: HID compatible controllers
Privacy Policy:  www.sega.com/mprivacy/
Terms of Use:  www.sega.com/mobile_EULA
Game apps are ad-supported and no in-app purchases are required to progress; ad-free play option available with in-app purchase.
Other than for users known to be under 13, this game may include "Interest Based Ads"​ and may collect "Location Data" ​(please see  www.sega.com/mprivacy#2e_Third_Party_Info ​for more information)​
© SEGA. All rights reserved. SEGA, the SEGA logo, Shining Bundle, SEGA Forever, and the SEGA Forever logo are registered trademarks or trademarks of SEGA CORPORATION or its affiliates.
You may also like
Shining Force Classics user reviews :
Going to give this game 1 star at this point. The game itself is great. The problem is that when I tried to save before quitting the game glitched and rebooted, erasing hours of gameplay. I will give it one more try. If it works properly I will change the rating but for now a game that you can't save your progress on is trash.
Finaly I won't have to use emulators anymore! I played this game until I had reached the final boss. Couldn't win and I didn't play anymore! Now I will restart the game! Thanks, I've waited a long time for this game to be launched officially. Waiting for the nr 2
I cannot agree with most of the negative comments here. the need to manually log into Google Play is weird, and frequently saving the progress is necessary because occasionally the game freezes. it gets better after removing the ads. but for some reason after a couple of fights, shining force 1 seems to end. the in-game map only has to cities and the locked-gate location. nowhere to go to continue the story above character level 4-5. WHAT'S UP ?? WHY ??
Love these games but recently I've gotten to a point on the first game that it keeps crashing over and over, halfway through a battle. So 2 weeks after posting this I'm still not able to play because I can't get more than a few moves into my current battle when the game will freeze itself not even let me save and then crash.
I love the 8 bit quality of the game, it has been a ton of fun even with the occasional add. My big problem is it keeps crashing on me with the latest update. Please fix this bug so I can keep playing and I can give it the 5 stars it otherwise deserves.
Great games, however the recent update seems to have introduced a bug that causes the game to slow and eventually freeze after about 10 minutes (Shining Force II). Some kind of memory leak? Please provide another update to address this!
Contact developer :
Download Shining Force Classics from Play Store
Leave your feedback regarding Shining Force Classics
Get more android apps/games/updates
Subscribe to our mailing list and get new android apps / games and updates to your email inbox.
Thank you for subscribing.
Something went wrong.