[Game] Dungeon Shooter – The Forgotten Temple (Free for limited time)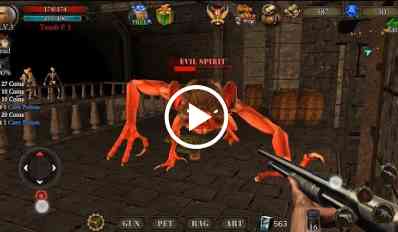 The Forgotten Temple : This is a fun and cool FPS indie game, which has some features of RPG games.
Players play as a shooter to adventure in tombs and dungeons, challenge unknown creatures, and dig for treasures. The game is rich in content and has multiple game elements, including pets, artifacts, runes, and guns ,etc…. Their reasonable combination will make the battle fun and diversified. hope you find your own fun in the game.
1. About the Death Cave:
There are three gemstones in the scene, each one destroyed will reduce the ability of the boss, Be careful to avoid the boss before these stones are destroyed.
2. About guns dropping:
Dialogues with the guard, click on the Creatures dialog box, and then fight,there is a chance to drop guns after killing boss.
3.About DNA:
Dialogue with the guard, click on the Creatures dialog box, and then fight,there is a chance to drop DNA after killing the boss No.2, No.5 and No.10 .
4.About create pet :
Dialogue with Dr.Reyna, create pets through "life synthesis" panels, It needs 1 DNA and 10 life genes.
5.About artifacts:
In the underground tomb exploration after opening the chest, there is chance of dropping treasures, treasures can be crafted into artifacts, equiping them will increases the character's attributes.
Have a good time!
The Forgotten Temple user reviews :
Recommended. I think this game should have a story mode or story line for it to be more fun and interesting to play with. I ALREADY finish up to the last stage which is stage 30. I almost completed all of the mission. May I ask how to open the gates where 3 headed dragon live? Edited: Please add other stages,levels for pets and main character and not but not the least kindly add other DNA droppings like tigers,lion, Trex, raven,owl, rooster,ducks turkey etc. hahaha
IMCrazy

Thanks for feedback and support, the new contents will be open in the future.Have a good time.
I stop playing this game a year ago. Comparing to 1 year ago: 1. Games getting better. 2. Seems the game reduce difficulty when last time I played. 3. Devs add few content since launch. 4. New monster and upgrade graphics. 5. Some of the mobs and area is not the same unlike the last time you notice that the area and mobs was the same every 10 stages. 6. The ads still the same I hope devs make it 6 – 15 sec. cause thats the way you only get the Gems other than buying it. 7. Stats sheet needed.
IMCrazy

Thanks for feedback , game will be continue to optimize.
Having great fun playing the game. The graphics are good, the controls work pretty well and the enemies are plentiful. Difficult to figure what to do in some of the bonus dungeons. There's one with piles of gold lying around but you can't pick it up. There's a counter but no idea what I'm aiming for. What's the point in a character with a lock pick skill who can't pick locks unless you buy keys? English needs work in places (drop me a message if you'd like some editing). Why charge to swap char?
IMCrazy

Thanks for feedback, if you found a treasure , you will completed a mission ,then go to the counter. In previous versions, the unlocking skill was used to limit the level of treasure chest that can be opened. It has been cancelled.If you find translation errors, you can give us feedback. Thank you very much.
If possible its hard to figure out how much of each on stats that is upgraded … What im meaning is like the way the guns r done for stat boosts … It would be a bit better if there was a page that tells the player there over all stats they get from boosts or even leveling up … Similar to how the pets r done so the player could see what strength to weakness they have in there gear. Id say it would be a helpful thing to most players on that … Id say keep with scrolls and books for lv up
IMCrazy

Thank you for your feedback and support. We will consider of your suggesions , have a good time.
Contact developer :
Video :
Download The Forgotten Temple from Play Store
Leave your feedback regarding The Forgotten Temple
Get more android apps/games/updates
Subscribe to our mailing list and get new android apps / games and updates to your email inbox.
Thank you for subscribing.
Something went wrong.