[App] FoxFi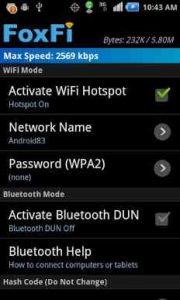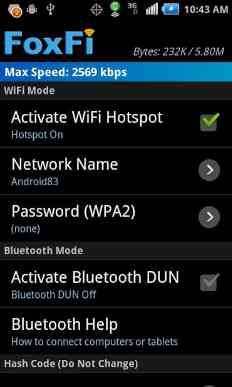 Turns your Android phone into a free WiFi Hotspot – no rooting or tether plan required.
You can connect from any computers or tablets or even game console. Access Point is infrastructure mode with WPA2 security. FoxFi usage is covered under the same phone data plan you have and no tether plan needed. This saves you $20/month from your carrier.
Currently WiFi mode may not support some phone models and we are working to expand the supported list. However Bluetooth/USB mode works for all phones. To check and see if WiFi mode can be supported on your phone visit foxfi.com/devices
Again you do not need a tether plan or root your phone (otherwise this software will be meaningless). It WiFi mode prompts you to call your carrier that means FoxFi has failed and you should use USB mode or Bluetooth mode instead.
*If you have T-mobile, you should use USB mode with "Hide Tether Usage" enabled.
*Sprint and AT&T has removed FoxFi from Market. If you can not find FoxFi please install or upgrade from pdanet.co/bin.
*Some Jelly Bean phones has locked-down the WiFi hotspot feature, because of that FoxFi will ask you to install a user certificate on those phones. The side effect is that Android system will require you to set a screen lock first (and only allows Pattern, PIN or Password) when you install any user certificates. We recommend
a. Use a Pattern lock for simplicity. The Motorola PIN lock screen could confuse you.
b. This is the only way FoxFi can enable WiFi mode when you don't have a tether plan. Use USB mode if you really don' t want the lock screen.
c. To undo the screen lock you have to remove the FoxFi certificate first (simply select "clear credentials" in security settings).
*Verizon Galaxy S4 with latest firmware update: if you do not want to set a lock screen for your phone, just bring up menu in our app and set hash code to "nolockscreen" and save. If you do this you can clear certificates and remove the phone lock (see above) but Verizon will show you a message to sign up for a tether plan. If you dismiss the message it will turn off your wifi hotspot so do not close it.
*The free version has a usage limit that requires you to restart FoxFi to continue using free mode. You can purchase the full version key to unlock this.
Here are some tips to help your usage:
1. On some models if you run into WiFi problem after using the Hotspot, simply reboot your phone and rename the hotspot before activating to clear the issue.
2. For some Samsung phones if your computer is not able to get an IP address, try to turn on WiFi on the phone first and make sure it does not connect to any WiFi network, then turn on FoxFi.
3. FoxFi is tested on non-rooted phones. If your phone has a rooted ROM it may or may not work.
4. When WiFi hotspot is activated you may also see a hotspot notification of the built-in WiFi hotspot feature. Please ignore it. As long as you do not sign up for a tether plan you won't be charged.
5. If you enter or change the hotspot password, make sure you rename the hotspot also before activating.
6. Sometimes Windows need a "repair" on the WiFi menu to get a correct IP address.
7. If you install the FoxFi AddOn app, you will also be able to hide tether usage by setting a proxy server address in the computer browser.
FoxFi user reviews :
I loved this app for years. Every time the providers came out with a update to block it; it would not be very long before FoxFi had a update to bypass them throttling the connection speed. Then I am not sure if they stopped updating it or were unable to find a way bypass the throttling. The wifi-direct works great but it doesn't work with gaming consoles. Miss the good old days.
Works great! For a free app, this little honey will get you online. No, its not lightning fast but, ITS FREE!!
Awesome App Verizon pretty much forced me to install the latest update to my S4, which blocked my current subscription to FoxFi. Within a minute, got a notification from FoxFi had an update which overcame that update block. Thank you FoxFi.
Latest Update :
Add a new "WiFi Direct Hotspot" feature in PdaNet to connect computers and tablets if existing Hotspot feature does not work.
Leave your feedback regarding FoxFi
If you like the content that we provide since 2012, put a smile on our face and give us a like or share this with your friends on any social platform. If you want to support this project, any crypto donation of $0.5, $1, $2, $3 is welcome!
You can find our crypto wallets on https://free-apps-android.com/buy-us-a-coffe/
Sponsored Links