[Game] Hitmasters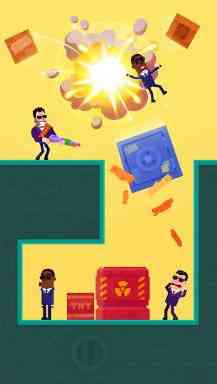 Have you ever dreamt of becoming a spy?
Start with simple puzzles and then advance to some challenging levels! Tons of weapons await you in the game arsenal. Try them all!
Make decisions wisely. One mistake and your enemies catch you! Don't leave them a chance. Or… just start over again.
You may also like
Hitmasters user reviews :
I love this game and all the awesome things that they added. I like how they have different modes. like sniper, acid, shotgun, and the telicanises gun. And how they have hundreds of levels and so many bosses. There's also a little kill count in this game and if you win you get a price. You can also play other games on here there's so much to do on this game. And that's what I think.
This Game Wouldn't Be Too Bad IF There Wasn't An AD AFTER EVERY SINGLE TIME You Did Something/Completed An Action! On Top Of That Most Ads Are Repeated ~ A Lot Of Them Will Open The Playstore When Tapping The "X" To Get Out Of The Stupid Things! Rediculous!! WAY TOO MANY USELESS Actions Involved To Play What Could Be A Nice Little Stress Reliever/Time Killer Game.
I downloaded it beacause of an ad the ad showed that you draw your own weapons but when I played it it had nothing to do with that after one shot I get too many ads it gets boring so easily honestly I'd rather not play it at all if you want 5 seconds of fun then get it over all too many ads gets boring and not what teh ads show
Fun game so far. I like it. Not alot of adds but there a little more ads. its good. ads. thats the problem.
Can't play for more than 60 seconds without Ad's, honestly you spend more time watching ads than playing. Very basic, poorly thought out gameplay, all about getting you to accidently buy something. Just about to uninstall this "game" /scam, really is bottom of the barrel / can't come up with anything original / can't be bothered in making it different/ took another game setup and stretched it out to become absolutely pointless to play as its the same thing over and over and over. Don't bother!!
Overall it is a great game. It has 5 modes so if you get tired of just one you can play different ones. The problem is that after you play like 50 levels, it starts to repeat the same levels. It doesn't need much thinking to play the game. It's very easy and fancy. It has many skins which I love and some of its skins and weapons have movie references.
Hi I am saying about my experience in this game. Such a thing this game Is good there are so many games like this but I love this game only. Some members have not enjoyed this game but 99% members enjoyed this. In that 99% I am also one who enjoyed and loved this game . Hope hope you do more best of this game all the best
The game kind of reminds me of Angry Birds in a hysterical way. It's fun but could have been better. I haven't played the game long enough but so far, it's technically a variety of existent games mixed into one. I've played games with far more ads but I can see how it could be annoying. I feel the game has potential if there is a bit more creativity involved and if the quality was improved just slightly. I may edit my review later on the longer I play it but so far, game needs improvement.
Ok-ish game, untrue ad. Installed it because of an ad I saw on Tik Tok, but when I booted it up, it's a completely different game than the one I saw advertised. Played it for a while, and checked if maybe what I saw was a game mode, but nope… Don't see it anywhere. Please don't lie in your ads. Also, using a copy and paste response that isn't even related to my review? Poor form. I don't care about the ads in the game, I care that YOUR ADS that prompted me to download it lied about the game.
Playgendary Limited

Hey there! Yeah, we know, ads can get quite annoying :( But they also give us the resources needed to maintain and improve the game, as well as create other cool apps! Stay with us!
Cool game! Most levels I've played so far seem easy, but it's still fun. It's freezes a lot(buttons stop responding, the reason for 3 stars). The most annoying part of the game freezing is that 90% of the time, its on a screen where you'd get a free gun/outfit… So you get to miss out on a lot of free stuff…
My game experience was pretty average I love how the characters are disined and how they are Lind up.but the game by its self was ok also I don't find the levels challenging enough and the ads are sooo annoying.because when you skip it always seems to load back into the game so yeah I really hope you can fix this issue but the game with out the ads issue is great.
It's quite good for me there's not that many glitches or freezes it's super good and I would really recommend it I like it and I hope you do to thank you
Very addictive to play. Good work.
It is a good game but there is a lot of ads and if you want to start over you have to do like and add but overall it's pretty good game
This game is so addicting that it hurts. But all the Same great if you want to take your mind of some things.
Contact developer :
Video :
Download Hitmasters from Play Store
Leave your feedback regarding Hitmasters
Get more android apps/games/updates
Subscribe to our mailing list and get new android apps / games and updates to your email inbox.
Thank you for subscribing.
Something went wrong.