[Game] Jewel Abyss
 creative destruction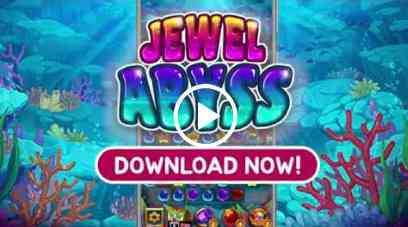 Let's go find the hidden treasure with the underwater underwater creatures!
Invite us now to the world of high-quality puzzle games with a variety of missions and colorful graphics.
Move the jewelry and set it in the same shape.
Find the treasure while clearing the mission hidden in the sea!
Experience 500 different stages!
Play Method
Move jewelry and match at least three identical colored jewelry.
Game Features
numerous levels
We have 500 stages with continuous updates.
Play games without entrance restrictions, but you don't need data!
There's no limit to games like life hearts, so you can play as much as you want!
Play Offline Without Data (Internet) Connections!
Don't worry about Wi-Fi!
flashy graphics and simple manipulation
It's an easy game to play if you can match 3 gems of the same color.
It's easy to learn, but not easy to master!
low-capacity game
It's a low-capacity game, so you can download it without any pressure.
Precision
1. If in-game does not save, the data will be initialized when the application is deleted.
The data is also initialized when the device is replaced.
2. It's a free app, but it includes in-game currency, items, and paid products such as removing advertisements.
3. Front, banner, and visual advertising."
Ofiicial FaceBook : www.facebook.com/Enpbycasual
Ofiicial twitter : twitter.com/enpbycasual
Customer Service : enp_casual_cs[at]enpgames.co.kr
Jewel Abyss user reviews :
I like your game very much and would have liked to give it five stars I've accepted the ads in between each level because they are short or click off immediately. But having the homepage and every other Bear area covered with advertisements for other games and requests to watch more ads in order to get rewards is overkill. It feels as if the sole purpose of the game is for you to collect money through advertisement. Because of the excess and the Simplicity of the game it comes across as greedy.
ENP Games

Greetings, I apologize for any inconvenience this may have caused you. Please contact the customer center with details of the situation in which the game is conflicting. Best Regards, ENPGames Customer Support
First and foremost..Thank You! It's completely legitimate. This game is all it's pumped up to be and more. I downloaded it yesterday, and I'm thoroughly impressed. No scam. No tricks, no fuss. It's a delightful and fun distraction from the worry of the Pandemic and COVID19 spreading seemingly faster than wildfires. Jewel Abyss is THE GAME to past lots of time since we all have to practice social distancing. So, go for it! Download it, ENJOY, and stay safe.
Great skin of the Bejeweled clone. I love mermaids and mermaid/ocean-themed things, so that's two stars right there. The game play is fluid and sparkly. Another star for that. There are ads but it's not overwhelming – many are optional. Would be hard for younger kids to avoid them, though.
ENP Games

Greetings, We will make it possible for all generations to play together. Thank you for praising our game. Best Regards, ENPGames Customer Support
Am on stage 50. Graphics are fantastic! Wish it will allow more"practice" when you're shown the tips. The level finished in 3-5 moves and BAM… It finished itself so an Ad pops up. 10 levels later you forget what the critters & items do, etc. I hope it gets more challenging. I also put it on airplane mode so Ads don't interrupt between each level while I'm on a roll…
ENP Games

Greetings, I still have a lot of missing parts I will try to show you how to develop more If you have any suggestions or inquiries, please contact the customer center and we will forward them to the developer. Best Regards, ENPGames Customer Support
One of the best Jeweled game I've played out of 14 of them. I really like the graphics and the bonus weapons and treasure chest good.i am on level 114 and I have only had one restart so far.ads little irritating but I will live!! Lol thanks guys
ENP Games

Greetings, Thank you for having fun. We will try to make a better game. Best Regards, ENPGames Customer Support
Great graphics, sound effects good too. Movements are swift and lean. I love it. Yet to reach a difficult level. See how things goes… 2 thumbs up for now. Love you guys
ENP Games

Greetings, Thank you for having fun with our game. I will come up with a better game. Best Regards, ENPGames Customer Support
Contact developer :
Video :
Download Jewel Abyss from Play Store
Leave your feedback regarding Jewel Abyss
Get more android apps/games/updates
Subscribe to our mailing list and get new android apps / games and updates to your email inbox.
Thank you for subscribing.
Something went wrong.