[App] Tile Crush – Brain Puzzle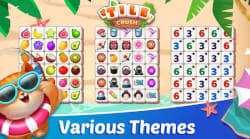 Tile Crush is a brand-new triple match puzzle, which is fun, addictive and brain exercising for free!
All you need to do is to match same tiles at a time! Be a count master and remember the number of tiles removed should be three! When all tiles are crushed, you pass the current level. The game consists of many levels, which will get more difficult progressively. Take your time and think thoroughly. There are also multiple styles and layouts for you to explore. You can play with your family and friends to train your brain and create a good memory. As a fidget reliever, it can also help relieve stress and calm your nerves.
HOW TO PLAY
Tap a tile and move it into the groove below. Once three identical tiles are collected in the groove, they will disappear.
When all tiles in a level are removed, you win. Yet when the groove is full of 7 tiles in total, you fail.
Different from other tile puzzles, we add the bomb tile. You need to match and remove all bomb tiles in limited time. Otherwise, you will lose.
There is no time limit in classic levels. However, if you finish a level quickly enough, you will get more stars (three at most).
GAME FEATURES
40+ styles of cute tiles: cakes, pizza, fruit…Each tile board varies from one another. Feel fresh everyday!
1000+ layouts with delicate design for all ages!
3 powerful boosters to facilitate your gameplay: Hints, Shuffle and Undo. And the number of boosters is unlimited when you first unlock them!
3 scenarios are provided to help you get more immersed: Falling leaves, rain and snow. Hope each of you have an enjoyable experience.
If you like the traditional match 3, mahjong, or jigsaw games, you won't wanna miss this one! Our puzzle game will be your next brain teaser and time killer!
You may also like
Tile Crush user reviews :
I had to change my rating from 5 stars to 2 stars because although I LOVE this game, there is wayy TOOO many ADS! andd… for whatever reason I can't get past the 97th level. I keep getting stuck on the level 100 theme, the screen just gets stuck like that and won't allow me to do anything or to get out of it so I have to keep restarting the game to keep playing the same level over and over again! Please FIX this!
It's a fun game, but I have one issue with this game. Once you complete the jigsaw puzzle screen you can't get out of it. There is no close button on it. You can't exit out of the screen to get back to the game. The only way is to completely close the app and open it again, but when that jigsaw puzzle screen pops up again, you are stuck again. Very annoying!
PLAYNEXX GAMES

Thanks for your information, your feedback will be reported to our product team, and we will try to improve the gaming experience later. Thanks for your kind support.
Best matching tiles game I have tried so far. Yes there are ads, and all games have them now, but at least you can get through the levels without having to spend money. Highly recommend it!
I love exercising my eyes and brain, especially while having fun timing myself. You should had used a timer in completing levels. More challenging…
PLAYNEXX GAMES

Thanks for your feedback. Continue enjoying our game! Have a great time!
Update- don't like it now. There are bombs/time limit, which is pointless and stressful. Changing from 5 to 1 star. Gets really difficult too. Awesome tile match game. Good rewards that allow you to keep playing. Ads can be muted, so that they don't play over anything you may be listening to on your phone. Very cute graphics. Recommend.
PLAYNEXX GAMES

Enjoy! What's more, we're looking forward to your continued support. Thanks a lot.
I just downloaded this game today. It's very cute,very colorful and fun to play. I'm on level #6 and the music has become quite staticky and the game is now running realiy super slow. All I can do to get out of the game is close out my screen.Because,of thee ads blocking the game content at the bottom of the screen.It's unfair for us not to see the entire game that we're playing.Esp-when it come's to the console buttons needed to play the game.Please,fix thee issue's so I can continue to play
PLAYNEXX GAMES

Thanks a lot for your feedback. We'd like to fix the issue you mentioned above. Could you email a screenshot or video to show this issue? This will help us to find the problem and solve it. Thanks!
This game is really fun! But I gave it 4 stars 'cause it hangs sometimes in the middle of clearing the levels, I hope you will look into it.
PLAYNEXX GAMES

Very sorry for the inconvenience. Could you reboot your device and try to open it again? If it still happens, please let us know. Thanks for your support!
Contact developer :
Leave your feedback regarding Tile Crush
Get more android apps/games/updates
Subscribe to our mailing list and get new android apps / games and updates to your email inbox.
Thank you for subscribing.
Something went wrong.