[Game] Dino T-Rex Simulator 3D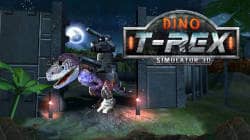 Get ready to join the journey of Dino T-Rex in a Dinosaur simulation game.
The Dino Game is an episodic adventure game with real-time effects in throwing, eating & shooting features.
It's an action adventure game with multiple tasks to perform as a dinosaur.
Be a dinosaur to complete your missions. Earn cash to upgrade new weapons and buy new dinosaurs. Each Dino has unique armors & powers to complete levels.
Get ready to experience high definition (HD) graphics with many extraordinary features. Enjoy the gameplay with unique adventurous Dinos & missions.
Download & play your new game with dinos with their armors.
Dino T-Rex Simulator 3D Features:
Best Dinosaur Simulation Game
Unlock & Play with different Dino
Enjoy all the new modified armed Dinosaurs
Exciting levels & missions to complete
It's a FREE game to play.
Do you like this Dino T-Rex Simulator 3D?? Don't forget to leave a review with your feedback. It means a lot for us
Dino T-Rex Simulator 3D user reviews :
We love this game except it wont let us buy and unlock any of the other dinosaurs. Its bullcrap cuz we got enough points to unlock all the dinos but whwn i hit the button it doesnt do anything. My grandson is so upset cuz he wants to change the dino to one that is locked and he has enough points to UNLOCK all dinos. Wth
It so easy I already had the double head one I love it it's cool but please add a dinozilla it so cool and awesome cool game I ever had
Dino T-Rex Simulator, Eating Humans, crashing vehicles, shooting drones and chopper, its an awesome game i love it.
I like the GAME! Because I have the venom dinosaur and I can the LAST THING I CAN DO IS DESTROY THE TANK!!!!! And I wish I had the double headed dinosaur and let's play the game soon I will have SO SO SO SO SO SO SO SO SO SO SO SO MUCH FUN! Do you like the game? I do sure like the game so I'll stop typing when I whant to who has the double headed dinosaur? I sure don't have it but I like my KITTYCAT!!!! My cat is called leo I like the NAME! I have dont so much typing in the chat SO BYE!!!!se
This game is extremely cool and awsome i love it specialy I love Skelton trex pls I have only one request pls add more skeleton dinosaurs pls and thanks for making this game
Best game but a levle is impossible levle 11 but the game is fantastic and a update and and make a app Dino t-rex
So much and I wish you can just upgraded and upgraded than make some animal I want them in there and get them some new animals like you can upgrade them with some shoes of a fan
All it needs is more levels more dinosaurs and more maps
Super great game and the kids are good for you and I will have a look at my resume and cover letter and resume for the post of HR executive director of HR and a half to you and the kids doing today my resume and cover letter and resume I have
Excellent Game…I Loved so much… everything is superubbb
Contact developer :
Leave your feedback regarding Dino T-Rex Simulator 3D
Get more android apps/games/updates
Subscribe to our mailing list and get new android apps / games and updates to your email inbox.
Thank you for subscribing.
Something went wrong.